Our St Lucia Holiday Expertise
Flight Centre is one of the largest travel retailers on earth, which is why we have stores and Experts in every corner of the globe. This widespread team gives us unparalleled access to the best flights, hotels and tours, as well as contributing unmatched insider knowledge about St Lucia and the Caribbean. So we won't just book your holiday, we'll help you decide what to do when you get there too.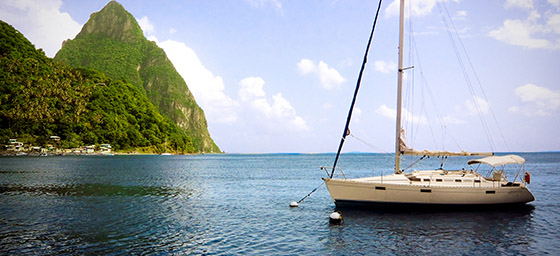 St Lucia Beach Holidays
Escape to St Lucia with Flight Centre and you'll take your holiday to the next level. From the soaring Pitons to the drive-in volcano of Soufriere – with a 4 to 5-star hotel, flights and a bundle of added extras included – we'll help you discover the best this emerald gem has to offer. Did you know the island is home to 27 bird species in just one section? Or that there's a 600-metre underwater drop-off in Choiseul? Well we did, and we want to help you discover it all for yourself – regardless of whether you're travelling with family, as a couple, on a spa retreat or in the lap of luxury.
Tailor-made St Lucia Holidays
St Lucia is only 27 miles long and 14 miles wide – easily navigable in one trip, if that's what you'd like to do. While most travel retailers will set you down in on resort and leave you to your devices, we can help you tailor-make your ideal Escape. Our Experts will take into account what you want to see, where you want to stay and your budget, using all that information to build your dream holiday.
Service from Start to Finish
From the moment you book your St Lucia Escape, to the moment you return safely home, you'll have uninterrupted access to our Travel Butler concierge service. Your dedicated Travel Butler will know your itinerary inside-out, preparing those all-important travel documents before you go, as well as offering advice on insurance, jabs, the best dive spots, hikes and more.
A Tailor-made Holiday to St Lucia with Flight Centre includes:
A beautifully designed personal itinerary and travel documents
Flexible deposits
Balance due 10 weeks before departure
Fixed change and cancellation fees
Visa and vaccination assistance
24/7 Emergency Assistance Service
Travel Butler concierge service – we will look after your every need from the moment you book to the moment you return safely home.