Choose from our range of Thailand holiday packages below that each include your flights, accommodation and often special bonuses like tours and free upgrades. If you can't find the package you're looking for, contact one of our friendly consultants on 0800 587 0058 and don't forget to ask about customising a package to suit your needs.
For flights from the UK to Thailand, the most common direct route is from London to Bangkok which takes around 12 hours 15 minutes and lands at Suvarnabhumi Airport. Airlines that fly to Thailand direct include British Airways, Thai Airways and EVA Air, while others will include a stopover in the United Arab Emirates or one of the Asian hubs nearby such as Manila or Kuala Lumpur. Thailand's other popular holiday destination is the beach island of Phuket, with flights from London to Phuket International Airport usually including a stopover in Bangkok, Singapore or Kuala Lumpur depending on the airline.
Airlines that fly from the UK to Thailand include: 
Thailand International Airports: 
Thailand's main international airport is Suvarnabhumi Airport (BKK) in Bangkok, which handles over 50 million passengers annually. The country also has international airports serving its popular tourist islands as well, including Phuket Airport, Chiang Mai Airport and Krabi Airport. 
Useful Information
British passport holders can holiday in Thailand for up to 30 days without a visa. Please note though that during your stay you are required by local law to carry your passport with you at all times. There have been incidents where tourists who have failed to produce their passport have been arrested. For travel on non-British passports, ask your consultant if you will require a visa. 
At Flight Centre, we can arrange flights to the following destinations. Looking for something in particular or want to include a stopover along the way? Contact one of our friendly consultants on 0800 587 0058 and don't forget to ask about our latest holiday deals as well. 
Many of Thailand's ancient traditions have survived time and the country remains very spiritual. As a result, Buddhist shrines such as the famous Erawan Shrine in Bangkok, are dotted throughout the country and are well worth visiting.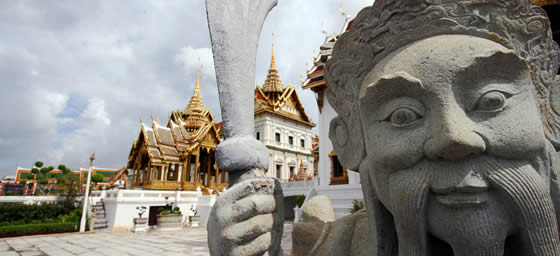 Grand Palace Statue
Thailand's food is another highlight of this region. From Pad Thai to Tom Yam Goong, you won't eat a better dish outside of Thailand. Head to the streets to find some of the most authentic cuisine and while there, try your hand at bartering at the markets. Bartering is a way of life in Thailand and if you're good, you can walk away with a great bargain.
Speaking of bargains, Thai accommodation offers great value for money. Opt for an all-inclusive resort and you can experience a luxury holiday for a lot less. Away from the bustling streets of Bangkok and resorts of Phuket, Thailand really is a tropical paradise. Take a tour of the picturesque Phang Nga Bay and explore the postcard perfect Phi Phi islands.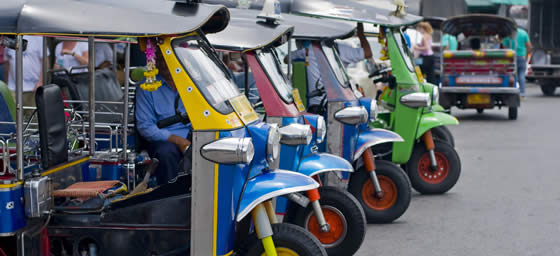 Tuk Tuks
For more on Thailand holidays check out our Thailand travel guide or ask your consultant about our Thailand holiday packages that include flights, accommodation and often other extras like tours or car hire.