We don't have any products online right now but one of our consultants may be able to help you. Enquire now to get access to great deals all over the world.
Choose from our range of Spain holiday packages below that each include your flights, accommodation, and often special bonuses like tours and free upgrades. If you can't find the package you're looking for, contact one of our friendly consultants on 0800 587 0058 and don't forget to ask about customising a package to suit your needs.
At Flight Centre, our flights from the UK to Spain are available from London Heathrow, London Gatwick and Birmingham depending on your destination.  
Airlines that fly from the UK to Spain: 
International Airports in Spain: 
At Flight Centre, we can arrange flights to the following destinations. Looking for something in particular or want to include a stopover along the way? Contact one of our friendly consultants on 0800 587 0058 and don't forget to ask about our latest holiday deals as well.
Civilisations have risen and fallen across Spain, leaving ruins, riads, gardens, palaces and monuments in their wake. This is a country with scores of UNESCO World Heritage sites and cities. Once head of a far-reaching empire, modern-day Spain has its economic troubles but you'd never know it from the round-the-clock energy bubbling through Madrid and Barcelona. You're sure to find hospitality in regional areas too; the cornerstone of your welcome? Sharing food and wine. It's almost a national obsession so be prepared for culinary adventures.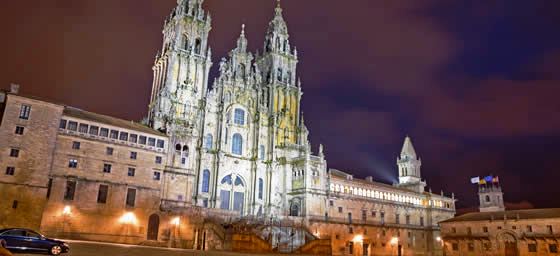 Cathedral of Santiago de Compostela
Outside, cities graced with preserved old towns, eye-catching architecture and manicured gardens, are the rural heartlands flanked by rugged and sandy costas. Spanish territory extends to several islands too (if you want to party your heart out, head to Ibiza; for a hinterland lunar landscape vision, drive the Canary Islands' Fuerteventura). For an entirely different experience, walk the ancient pilgrimage route across northern Spain – Camino de Santiago. It draws thousands each year to the city of Santiago de Compostela, with the final stop being the city's cathedral. It has changed the lives of many, perhaps it will do the same for you?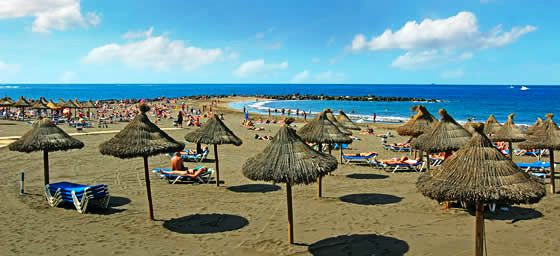 Canary Islands
Spain also offers an array of outdoor activities to keep you busy. Hiking, canyoning, whitewater sports, diving and skiing are among the options you'll find. If you're a language lover, come and learn Spanish, or Catalan or Castilian or Basque... Set to go? Book a flight to Spain or contact Flight Centre for tips on top things to do and see on your Spanish holiday.