Choose from our range of South Africa holiday packages below that each include your flights, accommodation, and often special bonuses like tours and free upgrades. If you can't find the package you're looking for, contact one of our friendly consultants on 0800 587 0058 and don't forget to ask about customising a package to suit your needs.
Flights from the UK to South Africa are available from regional cities and usually disembark in Johannesburg or Cape Town. Flights from London to Johannesburg for example, take around 11 hours. 
Airlines that fly from the UK to South Africa include: 
Main South Africa International Airports: 
Useful Information: 
British passport holders do not need a visa in order to holiday in South Africa for up to 90 days. For more information, please ask your consultant. 
At Flight Centre, we can arrange flights to the following destinations. Looking for something in particular or want to include a stopover along the way? Contact one of our friendly consultants on 0800 587 0058 and don't forget to ask about our latest holiday deals as well.
It is not only cultural diversity that makes South Africa magical. The country has a wealth of animal and plant life scattered across its varied climactic zones from desert to snow-covered mountains, forests to grasslands and mangrove swamps. Historically, too, there is plenty to discover, from the fossils of ancient hominids, to the pioneering spirit of the Dutch 'voortrekkers' and the settlement of the Eastern Cape frontier by the British colonialists.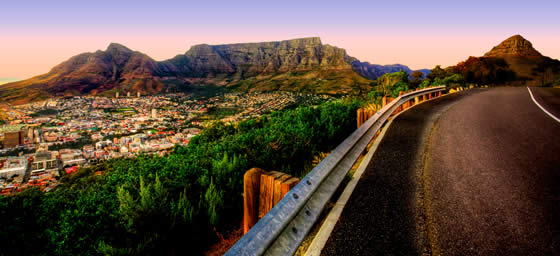 Cape Town
While the nation's cities offer a great insight into South African culture, it would be a tragedy not to explore the country's national parks courtesy of a wildlife safari. The Kruger National Park is located in the northeast and gives lucky travellers the opportunity of spotting the big five - lions, leopards, elephants, rhinoceros and buffalos. Other national parks worthy of attention include the Kgalagadi Transfrontier Park and the Addo Elephant National Park.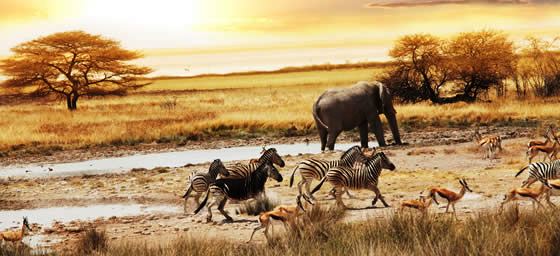 Wildlife Safari
Northwest of Johannesburg is a destination that offers an incredible glimpse into man's evolutionary process. Dubbed, the Cradle of Humankind, the site consists of over 200 caves where hominids and advanced ape fossils were discovered.
Are you ready to explore South Africa? Check out our flights to South Africa or contact Flight Centre for great tips on things to do and see on your African holiday. For more travel ideas, see our South African travel guide.