Choose from our range of New Zealand holiday packages below that each include your flights, accommodation, and often special bonuses like tours and free upgrades. If you can't find the package you're looking for, contact one of our friendly consultants on 0800 587 0058 and don't forget to ask about customising a package to suit your needs.
Flights from the UK to New Zealand generally disembark at Auckland International Airport, the country's main international airport. The flight is long haul, taking over 23 hours with stopovers usually taking place in Dubai, Abu Dhabi, Los Angeles, Singapore, Kuala Lumpur, Hong Kong and more, depending on the airline. 
Airlines that fly from the UK to New Zealand include:
New Zealand International Airports
Useful Information
British passport holders can enter New Zealand as a visitor for up to 6 months on arrivale without a visa. If you are not travelling on a British passport, please ask your consultant for more information on visas or refer to New Zealand's immigration website. For travel on non-British passports or for more information, please ask your consultant.
At Flight Centre, we can arrange flights to the following destinations. Looking for something in particular or want to include a stopover along the way? Contact one of our friendly consultants on 0800 587 0058 and don't forget to ask about our latest holiday deals as well.
Don't let it's small size fool you, New Zealand is a country that offers travellers endless possibilities. Breathtaking landscapes, heart-pumping adventures, eye-popping views and mouthwatering cuisine - a holiday in New Zealand can encompas it all and then some. While rugged images of soaring peaks and expansive fields made famous in Lord of the Rings may first come to mind, there's no need to live like a hobit while you're here. With tourism a popular industry and cosmopolitan cities scattered throughout, New Zealand accommodation is easily found, ranging from luxury hotels through to cheep and cheerful B&Bs.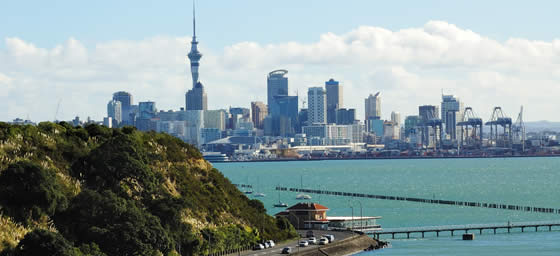 View of Auckland
Most travellers begin their New Zealand adventure in Auckland, the country's largest city. This harbour city is a multicultural melting pot, a place where art and creativity thrives and million dollar views accompany world class restaurants. While here, shop the city's concept boutiques, seek out the latest hotspot bar and confront your fear of heights at the Auckland Sky Tower. You can even bungy jump off it if you're feeling brave.
If a sky high jump sounds like your idea of fun then you're going to love Queenstown, New Zealand's adventure capital. Adrenaline junkies can bungy jump off bridges, ski down steep terrain, wiz around fjords on a jet boat and raft down river rapids. If moving at a glacial pace is more your forte, Queenstown's majestic scenery will have you captivated for hours. Cruise the remarkable Milford Sound or take a ride on a Gondola and admire serene views. For a more comprehensive look at the country's rugged and remote countryside, consider a New Zealand tour.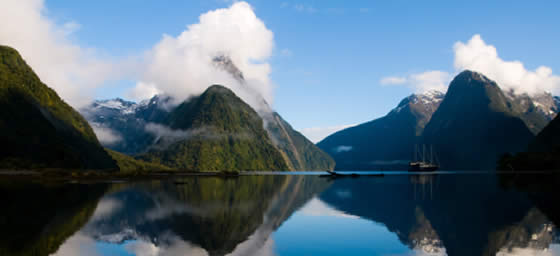 Milford Sound
For a true taste of New Zealand lifestyle, a holiday in Wellington is an ideal option. The country's capital offers a wealth of history, a lively culture and breathtaking views of the surrounding hinterland. Though quieter than Auckland and less touristy than Queenstown, Wellington offers cosmopolitan living amongst a uniquely New Zealand setting.
For more on New Zealand holidays check out our New Zealand travel guide or ask about our range of New Zealand holiday packages that include flights, accommodation and often other extras like tours or car hire.