Choose from our range of Malaysia holiday packages below that each include your flights, accommodation, and often special bonuses like tours and free upgrades. If you can't find the package you're looking for, contact one of our friendly consultants on 0800 587 0058 and don't forget to ask about customising a package to suit your needs.
Flights from the UK to Malaysia generally take around 13 hours direct and disembark at Kuala Lumpur International Airport. From there, domestic connections are available to Pengang and Langkawi.
Airlines that fly from the UK to Malaysia include: 
Malaysia International Airports: 
Malaysia's main international airport is Kuala Lumpur International Airport, located 34 miles from the city centre and a hub for Malaysia Airlines. Penang and Langkawi are also serviced by international airports, although they mainy host international flights from within Asia.  
At Flight Centre, we can arrange flights to the following destinations. Looking for something in particular or want to include a stopover along the way? Contact one of our friendly consultants on 0800 587 0058 and don't forget to ask about our latest holiday deals as well.
When most people think of a Malaysian holiday, Kuala Lumpur usually comes to mind. This is the capital of Malaysia and a city where modern technology has flourished. 6.5 million people now call Kuala Lumpur home, many of whom are expats living in this metropolis for business. In addition to the population figure, Kuala Lumpur is also a hotspot for travellers. As such, Malaysian accommodation is at its best in the capital, where some of the world's most luxurious hotels come with affordable price tags. Affordable luxury also applies to Kuala Lumpur's shopping, where mega-malls and markets offer something for everyone.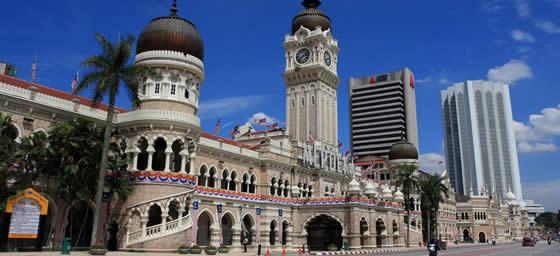 Kuala Lumpur
Away from the sky scrapers of Kuala Lumpur, Malaysia is home to many natural wonders and fascinating historic landmarks. Just outside the capital you can wander the Batu Caves, a series of ancient limestone caves which host a number of Hindu shrines as well as a 100-year-old temple. Across the South China Sea in the Malaysian side of Borneo lies some of the country's most notable natural landmarks. It is here you can climb Mount Kinabalu, Malaysia's highest peak, see the surreal pinnacles of Gunung Mulu National Park and spot rare orangutans in the wild.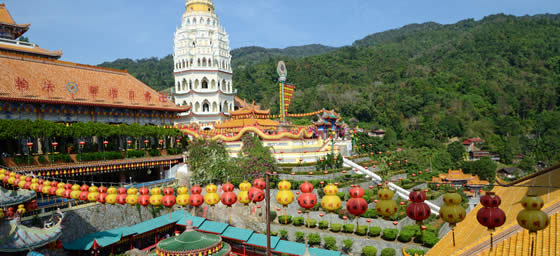 Kek Lok Si Temple
For a more relaxing stay, the island of Penang is home to pristine beaches, incense-scented temples and lively nightlife. Chinese and Indian communities are very prominent in Penang. As such the streets of Penang's Little India are great for exploring and shopping while the street food here is some of the best you'll find in Asia.
For more on Malaysia holidays, check out our Malaysia travel guide or view our range of Malaysia holiday packages that include flights, accommodation and often other extras like tours or car hire.