Choose from our range of Kuala Lumpur holiday packages below that each include your flights, accommodation, and often special bonuses like tours and free upgrades. If you can't find the package you're looking for, contact one of our friendly consultants on 0800 587 0058 and don't forget to ask about customising a package to suit your needs.
Airlines that fly to Kuala Lumpur
Kuala Lumpur Airport 
Flights from the UK to Kuala Lumpur will disembark at Kuala Lumpur International Airport. Kuala Lumpur International Airport (KUL) is a major centre for travel to Kuala Lumpur and its surrounding areas. The airport is one of the largest in Southeast Asia and is also a major hub for Malaysia Airlines.
Kuala Lumpur sets itself apart from the rest of Asia by embracing a broad range of cultures. Within its cultural melting pot you'll find Malays, Chinese, Indians and East Malaysian ethic groups. Thanks to such a diverse population, KL's culture is incredibly vibrant and exotic. The arts in the city, particularly art and music, flourish with great gusto while cuisine is a feast for the senses.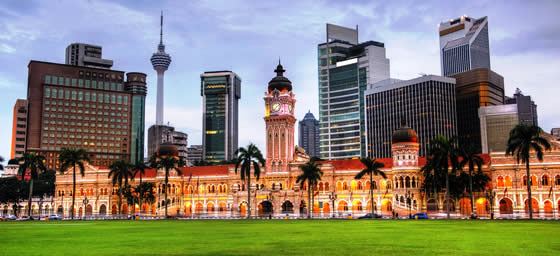 Kuala Lumpur's Spectacular Skyline
The city's innovative restaurants and extravagant nightlife are world renowned while KL hotels and spas will grant your every wish. Glitz and glamour certainly isn't hard to come by in Kuala Lumpur, but it's not always needed to have a good time. Some of the simplest food stalls are where you might find the best meals. The fun part is discovering which one.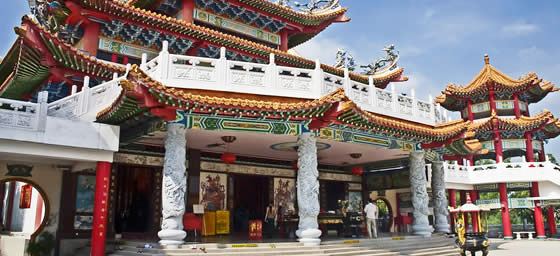 Thean Hou Temple
For more on Kuala Lumpur holidays check out our Kuala Lumpur travel guide or ask about our range of Kuala Lumpur holiday packages that include flights, accommodation and often other extras like tours or car hire.