Choose from our range of India holiday packages below that each include your flights, accommodation, and often special bonuses like tours and free upgrades. If you can't find the package you're looking for, contact one of our friendly consultants on 0800 587 0058 and don't forget to ask about customising a package to suit your needs.
Your India flight will set you down in one of the world's largest, most diverse and most spectacular countries. From London, flights to Delhi take about 8 hours; to Bangalore about 9 hours 30 minutes; to Mumbai or Goa, around 9 hours. 
Airlines that fly from the UK to India include: 
Malaysia International Airports: 
Flights to Bangalore, Delhi, Goa and Mumbai are all available from the UK. The region's main international airports are Chhatrapati Shivaji International (BOM) in Mumbai and Delhi International Airport. If you're exploring Northern India, opt to book your flight to Delhi, which is South Asia's largest aviation hub and handles more than 46 million passengers a year.
At Flight Centre, we can arrange flights to the following destinations. Looking for something in particular or want to include a stopover along the way? Contact one of our friendly consultants on 0800 587 0058 and don't forget to ask about our latest holiday deals as well.
It's impossible to discuss modern India without mentioning the British colonial period that was so central to the country's recent history. Beginning in 1772, Britain effectively had control of the whole country by the nineteenth century. It was Gandhi who achieved independence for India in August 1947. The legacy of the British rule is evident in many of the cities - including stunning examples of colonial architecture in New Delhi and Mumbai.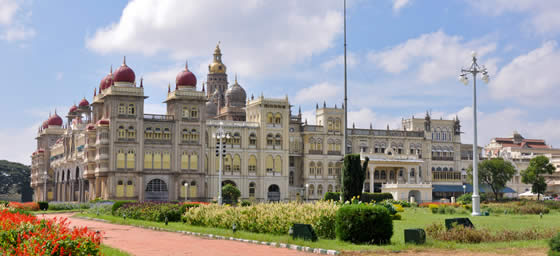 Mysore Palace
Travellers interested in the Raj should head to Rajasthan, where many beautiful palaces and forts stand as proud reminders of past dominance. Major cities of interest include Jaipur, Jaisalmer, Jodhpur and Udaipur. The iconic Taj Mahal is located in Agra, just to the east of Rajasthan. Varanasi on the banks of the sacred Ganges River is also worth investigating.
Palace of Winds
For an entirely different Indian experience, consider chilling on the beaches of Goa or taking in the serene beauty of Kerala. On the other hand, head to the north and travel through the enchanting states of Punjab and Chandigarh. And there is also Calcutta, which received world-wide attention thanks to the late Mother Teresa.
Are you ready to explore India? Check out our flights to India or contact Flight Centre for great tips on things to do and see on your Asian holiday.