Choose from our range of China holiday packages below that each include your flights, accommodation, and often special bonuses like tours and free upgrades. If you can't find the package you're looking for, contact one of our friendly consultants on 0800 587 0058 and don't forget to ask about customising a package to suit your needs.
Flights from the UK to China usually involve disembarking in Shanghai, Beijing or Hong Kong, with regional departures points available. One of the most popular flights from the UK is London to Hong Kong, which takes over 11 hours direct. 
Airlines that fly from the UK to China include: 
Main International Airports in China: 
Useful Information
British passport holders will need to obtain a visa before entering mainland China, but not for travel to Hong Kong. For more information, please refer to Gov.uk. 
At Flight Centre, we can arrange flights to the following destinations. Looking for something in particular or want to include a stopover along the way? Contact one of our friendly consultants on 0800 587 0058 and don't forget to ask about our latest holiday deals as well. 
A holiday in China can take on many forms. From a lively stay in a buzzing city to a peaceful retreat in the countryside, China has it all. Many travellers begin their Chinese adventure in the country's capital, Beijing. This expansive city is also the most populous in the world. As such, Beijing has a huge range of accommodation to suit all budgets and travel styles. Public transport, while often crowded, is incredibly efficient. Beijing's history is also a drawcard for tourists. It is here you can see the ancient Forbidden City, the Palace Museum and the monumental Tiananmen Square. Beijing is also within close proximity to the Great Wall of China, the country's most famous landmark.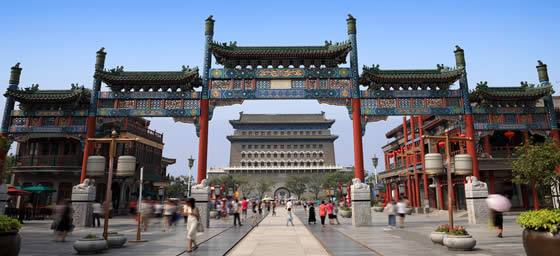 Qianmen Street, Beijing
Less populous but larger in size, Shanghai is China's other famous metropolis. The most developed city on mainland China, Shanghai is home to a dazzling skyline, diverse range of architecture and a fast-paced lifestyle. World-class restaurants, luxury boutiques and electronic superstores keep locals busy, but there are also places of peace amongst the chaos. Retreat to a tea house and take part in an ancient tradition or wander Shanghai's most famous garden, the Yuyuan.
Black Dragon Pool Park
Away from Mainland China, Hong Kong stands tall as one of Asia's most popular tourist and business cities - it's airport equally as bustling as it's spectacular port. While it may be major stopover hub in Asia, Hong Kong is well worth exploring beyond the airport. It's streets are full of energy, it's highrises boast some of the best restaurants and bars with a view, while it's food, especially if you're a seafood fan, will leave you weak at the knees.
For flights to China call Flight Centre on 0800 587 0058. Refer to our China travel guide for more information.