Choose from our range of Cape Town holiday packages below that each include your flights, accommodation, and often special bonuses like tours and free upgrades. If you can't find the package you're looking for, contact one of our friendly consultants on 0800 587 0058 and don't forget to ask about customising a package to suit your needs.
Airlines that fly to Cape Town
Cape Town Airport
Flights from the UK to Cape Town will disembark at Cape Town International Airport. Cape Town International Airport (CPT) is Africa's third largest airport and the second busiest in South Africa. Originally referred to as DF Malan Airport, Cape Town Airport is a hub for South African Airways and a major gateway for tourists travelling to South Africa.
Cape Town's history is as diverse as its landscape. Originally the area was inhabited by ancestors of the Kalahari Bushmen. A European colony first settled in the area in 1652 and later went on to be occupied by the French and then the English in 1806. In 1946 South Africa established apartheid, resulting in the segregation of races throughout the country, including Cape Town. As a result of apartheid, South Africa was withdrawn from the Commonwealth.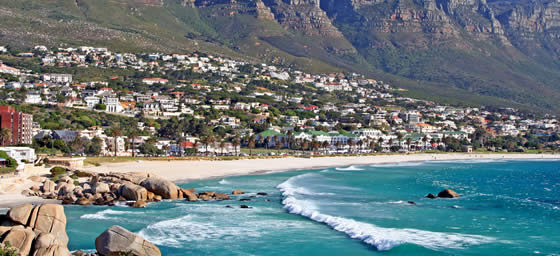 Camps Bay
This period ended in 1990 after Nelson Mandela was released from jail and made his first public speech from the balcony of Cape Town City Hall. In 1994 the country was re-established as part of the Commonwealth and tourism boomed as a result. With such a distinct history, Cape Town's museums are incredibly interesting, particularly those surrounding the history of apartheid and Nelson Mandela.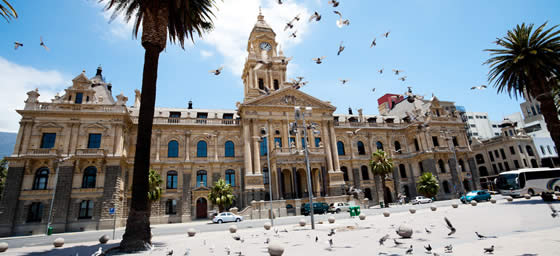 City Hall
Today Cape Town is home to a colourful community spanning a wide range of ethnicities. Its cultural melting pot can easily be seen at the city's numerous open-air markets. Loud, colourful and uniquely creative, Cape Town markets, such as the Greenmarket Square Flea Market, are a great place to mingle with locals and get an idea for life in Cape Town.
For more information on Cape Town holidays check out our Cape Town travel guide. Looking for more than just a flight? A Cape Town holiday package includes flights, accommodation, and often other extras like tours or car hire. Ask about our Cape Town packages today.