Experience richly diverse and fascinating Malaysia
Get on board with Flight Centre First and Business and British Airways and enjoy a luxury holiday to the exotic country of Malaysia.
British Airways are re-launching their service from London to Kuala Lumpur from 27 May 2015 and to celebrate we are giving away a luxury First and Business holiday to Langkawi, flying in Club World worth over £8,000.
They will be the only airline offering a four cabin service with direct daily flights from London to Kuala Lumpur. Premium cabins include World Traveller Plus, Club World and First; each offering a level of comfort that will leave you refreshed when you arrive in Kuala Lumpur
The thirteen hour flight has been considerately planned to operate overnight, a real benefit to passengers travelling in Club World or First. With more leg room, lie-flat beds and even your own private, spacious suite in First you will have the optimum space to relax and enjoy your flight. British Airways operates regional connections to Terminal 5 making travelling to Malaysia even easier for regional customers.
WIN a luxury Malaysia holiday worth over £8,000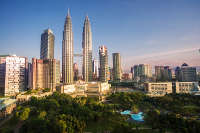 By entering our free prize draw you are one step closer to winning a seven night First and Business luxury holiday to Langkawi for two, worth over £8,000.
Travel in style with complimentary chauffeur transfers in the UK, return British Airways Club World flights to Kuala Lumpur, internal flights and private transfers in resort. Then stay for seven glorious nights at the luxurious 5-star Andaman Hotel which seamlessly blends contemporary, elegant design with breathtaking Andaman Sea views.
Flights to Malaysia
We don't have any flights available online right now for this destination, but our First and Business Premium Airfare Experts can still help you find exactly what you want.
To find out about our latest flight deals, call us on 0800 082 1174 or enquire online today
Holidays to Malaysia
More info about Malaysia
Stunning beaches, remarkable wildlife, lush natural beauty and dazzling cities can all be found in Malaysia.
Presenting an engaging mix of cultures both new and old, Malaysia is a welcoming nation that offers visitors many different kinds of amazing travel experiences.
The modern metropolis of Kuala Lumpur presents sky-scrapers that stretch to seemingly impossible heights, shopping malls that offer everything from contemporary to extraordinary wares and options to keep even the most adventurous foodie left in a haze of bewilderment and excitement.
Leave the city behind and explore rural villages and tea plantations that bring together a unique blend of cultures. Malays, Indian, European, Chinese and indigenous groups have been co-habiting throughout the Malay Peninsula and the surrounding islands for centuries. It's this blend of beliefs and lifestyles that make Malaysia such and intriguing country to explore.
For laid back luxury beach life Malaysia's islands are hard to beat. Situated just off the mainland's west coast Langkawi's archipelago is made up of 99 beautiful islands. Think idyllic white sand beaches, swaying palm trees and azure crystal clear seas. Hire a car to explore the island, take a boat trip to neighbouring islands or head inland to discover the friendly monkey population hiding out in the lush jungle clad hills. Langkawi is the perfect place to escape and relax in luxurious spa resorts or enjoy world class diving in the coral rich seas that surround the islands.
The popular island of Penang is a haven of pretty beaches, ancient temples and bustling markets. The beaches along the north coast offer excellent water sports and a myriad of restaurants offering excellent regional cuisine and sublime seafood. The duty free capital of George Town is well worth a visit, while the mountainous interior is rich with wildlife. Those looking for an exclusive luxury break should look no further than the private island of Pangkor Luat, while Tioman Island is a nature reserve boasting a diverse array of wildlife, as well as coral reefs just offshore.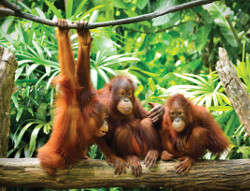 Alternatively, discover a million-year-old rainforest in Borneo, a destination that can be visited as a destination in its own right or combined with a trip to Peninsula Malaysia. With regular domestic flights between Kuala Lumpur and Kuching (the capital of Sarawak) or Kota Kinabalu (the capital of Sabah) it is easily accessible. Many people choose to add on a side trip to Borneo to visit the rainforests and remote indigenous tribes or get up close to the wonderful native orang-utans in the famous sanctuaries. Sabah and Sarawak are also great for diving or exploring the local wildlife including watching turtles lay their eggs at night on Turtle Island.
Malaysia has so much to offer the discerning traveller – equally well catered for a luxury escape as it is for an off the beaten track adventure. Visit Malaysia for a travel experience that will open the mind and warm the heart.