An Extraordinary Luxury Destination
Luxury Glacier Experience
New Zealand, the destination that is world famous for adventure travel is now becoming well known for exotic luxury travel, and it's very clear to see why.
Breathtaking scenery focuses your attention as you travel throughout this stunning country and creates a backdrop for a host of elegant luxury hotels and lodges. With an abundance of flora and fauna to explore, and a fine cuisine to excite even the most refined of palates, the scene is set for the most extraordinary luxury travel experience you are ever likely to enjoy.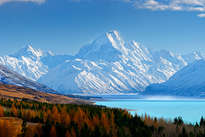 Aoraki /Mount Cook National Park
This is a destination where the experience is all encompassing and at Flight Centre First and Business our aim is to make sure your luxury holiday experience lasts from the moment you book to the minute you arrive home safely from your travels. Our Premium Service Guarantee promises to cover every aspect of your journey by looking after any requirements you have. Our attentive service offers recommendations not just on where to stay, but how to travel plus also provides peace of mind with our complimentary 24/7 worldwide emergency assistance.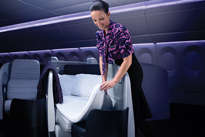 Air New Zealand Business Premier
Our recommendations start with your flight and the best airline to fly with. Let us introduce you then to Air New Zealand, the national airline and flag carrier of New Zealand. With two premium cabins available (Business Premier and Premium Economy Spaceseat™) plus a raft of consumer awards including Best Airline of the Year 2015 (AirlineRatings.com), we cannot recommend Air New Zealand enough when travelling to Auckland and beyond.
.
Call our First and Business Experts Now
0800 082 1174  or  0333 333 6885
Flights
We don't have any flights available online right now for this destination, but our First and Business Premium Airfare Experts can still help you find exactly what you want.
To find out about our latest flight deals, call us on 0800 082 1174 or enquire online today
Your Flight Experience

Experience Air New Zealand
With seven different gateways between London and New Zealand, Air New Zealand offers more stopover destinations than any other carrier between London and New Zealand.
You can choose to travel with Air New Zealand from London to Los Angeles and onwards to Auckland on their flagship B777-300ER aircraft or fly from London with one of their airline partners via Asia or North America and then pick up your Air New Zealand flight from there onto New Zealand. You can even create a round the world itinerary giving you more choice and flexibility to meander the globe.
Relax in Business Premier
For those wanting a good night's rest, the Business Premier cabin has a luxurious leather seat that converts into a fully lie-flat bed, complete with memory foam mattress, duvet and two full size pillows. They serve delicious in-flight menus, complemented with award-winning New Zealand wines and following food service customers can sit back and relax enjoying the 1800 hours of entertainment.
To make the journey as smooth as possible, customers also benefit from chauffeur service or valet parking*, three pieces of checked luggage (up to 23kg each), priority check-in, lounge access and priority boarding.
Business Premier Cabin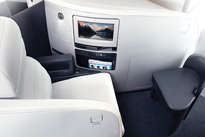 Before the flight enjoy:
• Three 23kg checked bags
• Premium check-in
• Lounge access
• Priority boarding
• Chauffeur service to London Heathrow**
• 22" wide and 6'7.5" long lie-flat bed, each with direct aisle access
• All seats with direct aisle access
• Thick memory foam mattress, a fluffy duvet and full size pillows
• 12.1" personal touch screen
• Delicious chef designed, kiwi-inspired menus
• Award-winning wines served to complement meals
Stretch out in your Premium Economy Spaceseat™

The Premium Economy cabin features the innovative Premium Economy Spaceseat™ - the seats have been designed so that the person sitting in front won't recline into your space. The seats that run through the inner space of the cabin have been designed for couples, so you can relax together and the seats on the outer space of the cabin offer more privacy. All seats have a 42 inch seat pitch and a great 10.6" touch screen, plus premium food and wines, increased baggage allowance and Premium check-in.*
Premium Economy Spaceseat™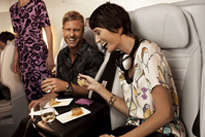 Premium Economy Highlights
• Two 23kg checked bags
• Premium check-in
• Priority boarding
• Innovative Premium Economy Spaceseat™*
• Up to 42" seat pitch
• 10.6" personal touch screen
• A premium menu with New Zealand wine
• Snacks and drinks on demand
• In-seat power, USB and iPod connections
* Premium Economy Spaceseat™ only available on our 777-300ER aircraft, flying London to Los Angeles and onwards to Auckland. B777-200 and 787-9 aircraft flies between Auckland and all other stopover destinations. Product varies by aircraft and partner airline on other routes. ** Dependent on booking class & type of fare. Chauffeur service valid within a 60 mile radius of London Heathrow airport.
Luxury Experiences to Behold

New Zealand offers the opportunity to discover a broad range of bespoke and authentic luxury experiences in stunning natural settings hosted by naturally warm and welcoming people. 
At First and Business we're of the belief that your holiday should offer an all encompassing experience and last from the moment you book to the minute you arrive home safely from your travels. Fly in a premium cabin with Air New Zealand, stay in an exquisite hotel or exclusive lodge and immerse yourself in unique New Zealand experiences that capture the true essence of your surroundings. We call this style of holiday a 'journey', and when your journey includes the best of the best it becomes an 'Ultimate Journey'.  
Our Ultimate Journeys range includes a carefully created New Zealand itinerary designed to make the most of your time in Aotearoa. Our Ultimate Journeys all include return business class flights, complimentary chauffeur transfers, all accommodation, unique luxury experiences and our Travel Butler concierge service. Our Landscapes of New Zealand, 24 day Ultimate Journey starts from £10,165 per person. To find out more about our Ultimate Journeys, call or email us today.
For inspiration to help create your own Ultimate Journey here are some of our favourite luxury New Zealand accommodation options and experiences.
Auckland - Bay of Islands - Rotorua - Taupo - Wellington - Marlborough Sounds - Kaikoura - Christchurch - Franz Josef - Queenstown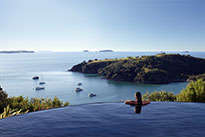 Location: AUCKLAND
Hotel: Delamore Lodge - Waiheke Island
This elegant and exclusive 5-star boutique hotel is located on Waiheke Island. Set in the Hauraki Gulf and just a 35 minute ferry ride from downtown Auckland, the stunning location on a cliff edge offers what is arguably one of the best views of Owhanake Bay. The Delamore Lodge offers a private setting with superior facilities, a sumptuous cuisine plus a swimming pool with extraordinary views.
From £235 per person per night
Suggested Luxury Experience: Oyster Inn Fly and Dine Lunch
After a breath-taking seaplane flight over Rangitoto's Crater, located in the sandy half-mooned beach of Oneroa, the new gem of the stunning Waiheke Island, Oyster Inn and Restaurant awaits you. Here, you'll be able to enjoy a 3 course a la carte lunch meal of Oyster Inn delicacies or indulge in a degustation menu with matching wines providing the perfect place of relaxation.
Location: BAY OF ISLANDS
Hotel: The Sanctuary
With only four guest rooms, you could go days at The Sanctuary without seeing another soul. It's like an ultra-secluded home away from home, except with more sunshine and a definite Grand Designs feel. With private sea-view balconies peace and tranquillity is in abundance. Coupled with this is a tasty fusion of gourmet cuisine full of fresh organic ingredients, best enjoyed while gazing up the never-ending Veronica Channel.
From £115 per person per night
Special offer: Stay for 3 nights at The Sanctuary and receive a complimentary 3 course dinner for 2 and a guided cultural experience and tour of the Waitaingi Treaty grounds for two. This is valued at NZ$270 per couple
Suggested Luxury Experience: Private Food & Wine Trails
Extend your culinary experience even further with a private tour of three top local wineries and food producers. After a relaxing morning tea set out and sample fine wines, locally produced oil, cheese and avocados.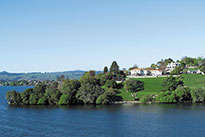 Location: ROTORUA
Hotel: Peppers on the Point
Once a 1930s family mansion, Peppers on the Point is now a hotel like no other, a peaceful lakefront gem set amid a distinctive landscape of active volcanoes, shooting geysers and boiling mud pools. Sip fine New Zealand wines at the lodge's onsite restaurant, not to mention the highlight: preliminary drinks and canapés followed by a gourmet four-course d'hôte dinner.
From £129 per person per night
Suggested Luxury Experience: White Island Active Volcano Helicopter Tour
Fly to and land on New Zealand's only permanently active volcano White Island. Leaving the Rotorua city lakefront fly north past the northern lakes district before crossing the coast to White Island. Arriving overhead the volcano enjoy aerial views of the active crater before landing on this lunar like surface. Here embark upon a leisurely guided tour of the island's crater floor to view active steam vents 'fumaroles', hot streams, vibrant sulphur formations and the steaming crater.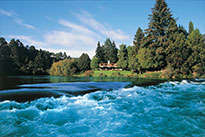 Location: TAUPO
Hotel: Huka Lodge
Never have you felt more secluded, more A-list, than at the Huka Lodge. This well-appointed hideaway appears on many a 'world's best…' list, praised for its seclusion, tranquillity and forest parkland surrounds. For those who simply want to be engulfed by luxury, sample sublime gourmet cuisine at the onsite restaurant, play a round of tennis, laze by the pool or lake, and sink into your comfortable suite.
From £456 per person per night
Suggested Luxury Experience: Fly Fishing and Casting Lesson
Whether you are an experienced fly fisherman or a complete novice you will find fly fishing both a delight and a challenge. The world-renowned Tongariro River is classed as one of the best fly fishing rivers in the world and is also New Zealand's most popular fishing. Huka Lodge's own experienced fly fishing instructor will meet you on the Huka Lodge lawn at a time convenient to and teach you the casting techniques that will equip you well for future fly fishing experiences. For two guests staying in a Junior Lodge Suite for two days you will receive a complimentary 1 hour lesson.Valid for bookings made before 20 July 2015.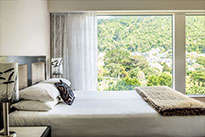 Location: WELLINGTON
Hotel: The Bolton Hotel
Boutique Bolton Hotel is the epitome of contemporary sophistication, infused with a huge focus on sustainability - an overall reduced energy use to help towards this boutique hotel's green plans, while giving it extra money to spend on these little luxuries for its guests – think free-to-use iPads, an on-site sauna, spa pool and gym and huge, well-equipped studios and suites, guest rooms don't get much bigger than this.
From £81pp per person per night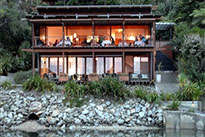 Location: MARLBOROUGH SOUNDS
Hotel: The Bay of Many Coves
Indulge your fantasies of adventure and luxury at the Bay of Many Coves. In the majestic Marlborough Sounds, just a stone's throw from the spectacular Queen Charlotte Track, the resort is the perfect base for thrill seekers looking to get out on the water and explore. And what better way to finish up a busy day with a soulful spa treatment, followed by a delectable dinner.
From £115 per person per night
Suggested Luxury Experience: 7 Course Fine Dining Dinner
When you stay for 3 nights you can enjoy a complimentary 7 course degustation dinner for 2 valued at $270 per couple. The menu takes full advantage of the quality local ingredients and can be paired with fine New Zealand wines. Available on bookings made before 20 July and for travel 01 Sep-30 Nov 2015 and 01 Mar-31 May 2016.
Location: KAIKOURA
Hotel: Hapuku Lodge & Tree Houses
Cushioned between the lofty Seaward Kaikoura Mountain Range and the wild Mangamaunu Bay, the Hapuku Lodge & Tree Houses is just about away-from-it-all as it gets. There are just 12 rooms, six of which sit atop the forest canopy, high in the branches and boasting huge windows for mountain and ocean views, so from your balcony you can keep an eye out for the nature below.
From £169 per person per night
Special Offer: Stay 3 nights at the Hapuku Lodge & Tree Houses and enjoy a complimentary Hapuku Kitchen cooking experience for two.
Suggested Experience: Whale Watching Boat Tour
Kaikoura is the Whale Watching capital of New Zealand, every Whale Watch tour is a unique experience and the sightings vary – your tour will last approximately 3.5 hours. Giant Sperm Whales are the stars of the show and year-round residents. A typical Whale Watch tour may encounter New Zealand Fur Seals, pods of Dusky Dolphins and the endangered Wandering Albatross. Depending on the season you may also see migrating Humpback Whales, Pilot Whales, Blue Whales and Southern Right Whales. Kaikoura often hosts the worlds largest dolphin the Orca and is home to the worlds smallest and rarest marine dolphin the Hectors.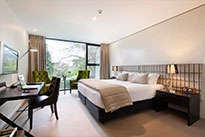 Location: CHRISTCHURCH
Hotel: The George
The George is a hotel of contrasts: its food and service are both impeccable and luxurious, but its design is simple and elegant – more humble than lavish. Its atmosphere is relaxed and nothing is too much trouble for the staff. Even the guest rooms are laid back in style, with contemporary furnishings, bundles of space and calming park or garden views.
From £104pp per person per night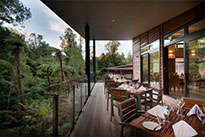 Location: FRANZ JOSEF
Hotel: Te Waonui Forest Retreat
With only four guest rooms, you could go days at The Sanctuary without seeing another soul. It's like an ultra-secluded home away from home, except with more sunshine and a definite Grand Designs feel.  With private sea-view balconies peace and tranquillity is in abundance.  Coupled with this is a tasty fusion of gourmet cuisine full of fresh organic ingredients, best enjoyed while gazing up the never-ending Veronica Channel.  
From £153 per person per night
Suggested Luxury Experience: Mountain Scenic Spectacular
This premier helicopter flight lets you experience two of New Zealand's finest National Parks. Discover the gigantic expanse of the Franz Josef and Fox Glacier snowfields with a landing at high altitude. Step out of your helicopter and experience how it feels to stand in the glacial snow. The flight includes fantastic views of the Tasman Glacier and Aoraki/Mount Cook.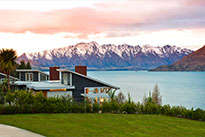 Location: QUEENSTOWN
Hotel: Matakauri Lodge
Just minutes from dramatic Queenstown, the alpine Matakauri Lodge is the ultimate lakeside retreat – bordered by mountains, pine trees and crystalline waters. All spacious suites and guest rooms offer unrivalled privacy and seclusion, not to mention warm, welcoming décor. Indulge at the onsite spa, take in panoramic views across the lake from the infinity pool or hot tub, and use Matakauri as a base for adventure.
From £376 per person per night
Suggested Luxury Experience: Sunrise Balloon Flight
As you rise to altitudes as high as 6000ft and drift with the breeze, you will witness quite possibly the best panoramic views of Queenstown and its surrounds – 'The Hobbit' filming locations, Southern Alps, Lake Wakatipu, The Remarkables mountain range, New Zealand's finest golf courses and much, much more.
Destination New Zealand

New Zealand is a small island that packs a huge punch and will touch your soul whilst inspiring your senses. With 14 magnificent national parks, 25 marine reserves and endless opportunities to experience nature like you've never done before; why not take this opportunity to journey across this spectacular country.
With diversity across both the North and South islands, New Zealand offers landscapes of all shapes, sizes and beauty. Here are just some of the highlights that you can expect from such a breath-taking country.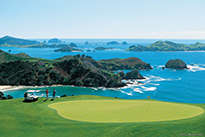 Matauri Bay - Bay of Islands
SAIL PRISTINE COASTLINE IN THE BAY OF ISLANDS. Sitting towards the very top of the North Island, the Bay of Islands is a subtropical micro-region, famous for its outstanding beauty and compelling history. With the opportunity to charter a yacht or join a daily cruise, here you will be spoilt with the abundance of marine wildlife on show, including dolphins, whales and penguins.
Te Whau Vineyard Waiheke Island Auckland
EXPLORE THE STUNNING NATURAL PLAYGROUND OF AUCKLAND. Moving further south you will reach New Zealand's largest city, Auckland. Not your typical city, Auckland is famed for its rugged west coast beaches, where the sea crashes onto vast black-sand beaches and lush native rainforests cascade onto the beach floor. It's a city that's passionate about food, wine and shopping, with exceptional adventures set amongst its natural beauty, a mere stone's throw away. Take a seaplane tour for an aerial view of the stunning vistas and stop off at a waterside restaurant, or charter a sailing boat for a more thrilling sightseeing experience.
Whale Watching - Kaikoura
EXPERIENCE SPECTACULAR MARINE LIFE ENCOUNTERS IN KAIKOURA. With mountain peaks rising out of the ocean in many places, Kaikoura offers dramatic and stunning alpine scenery and a host of eco-tourism activities. Famous for its plentiful whale population, there is ample opportunity to spot this magnificent animal or to go dolphin swimming and seal snorkelling. This gem is also the ideal spot for some stunning walking experiences including the Shoreline Walk or trekking up Mount Fyffe.
Queenstown
EMBRACE OUTDOOR LIFE AND THE DRAMATIC SCENERY IN QUEENSTOWN. Home of the ultimate adventure bucket list, Queenstown is a smorgasbord of outdoor activities from heli-biking and jet boating to horse trekking and canyon swinging. Despite its adventurous reputation, if you're looking for a more dignified affair, Queenstown has plenty more to offer; indulge in spa treatments, boutique shopping and spectacular food and wine.
Miford Sound - Fiordland
IMMERSE YOURSELF IN THE AWE-INSPIRING VISITAS OF FIORDLAND. Found on the southern tip of New Zealand, Fiordland offers visitors sights and sounds of one of the most dramatic parts of the country. Forged by 100,000 year old glaciers this is where waterfalls cascade hundreds of metres into deep black fiords, where ancient rainforest, untouched by mankind, grips to mountains and where glistening lakes and granite peaks look as they did a thousand years ago. Take in the breath-taking scenery by air, kayak, or on foot. Fiordland however is most famous for the hiking experiences it offers, with the National Park home to three of New Zealand's 'great walks', including New Zealand's most famous, the Milford Track.
Marlborough Wine Region
INDULGE IN WORLD-CLASS WINE TASTING. From Hawkes Bay in the North Island to Central Otago in the South Island, New Zealand is celebrated for its wine growing regions. With a perfect maritime climate, the country produces some of the best wines in the world. Head to Hawkes Bay for the very popular bicycle wine tours and sip on the delights of their famous merlot; or if white is more your tipple, make your way to Marlborough, New Zealand's largest wine growing region and home to the world-renowned sauvignon blanc.
Clarke Glacier
VIEW REMARKABLE ICE CAVES AND SCUPLTURES FORGED OVER MILLENNIA. As a contrast to the warm climbs of a wine-making country take your journey to the famous Fox and Franz Josef glaciers or the lesser known but equally impressive Clarke glacier and experience the modern day ice age, where glaciers flow to almost sea level. Easy walks take you to the foot of the glaciers and past ancient river valleys where the steep glacier sides have cut through the landscape over millennia. Alternatively take to the sky in a helicopter for a breathtaking ride and land atop one of these fine glaciers to continue your exploration of ice caves and frozen waterfalls on foot.
A melting pot of outstanding natural beauty, exceptional wildlife, fine cuisine and friendly people, a luxury journey around New Zealand will be full of experiences that will create a lifetime of amazing memories. It's a destination that will be sure to never disappoint.