The most perfect flight to the USA
Why settle for anything less than perfect when you fly to the USA. Whether indulging in a luxury holiday or travelling for business your flight should be part of your travel experience and that experience should be nothing short of amazing.
Whether you are visiting the East or West Coast, heading to Chicago and the Great Lakes, The Deep South or Miami and the Florida Keys your flight time form the UK will be no less than 6.5 hours. Combine that with the majority of return flights back to the UK being overnight and you have the perfect reasons to upgrade your flight when travelling to the USA.
With fully flat beds available on most transatlantic flights you can enjoy a restful sleep, or stretch out and enjoy the most comfortable of flights. Chose Premium Economy offering more leg-room and wider seats than Economy, or Business Class and First Class for a guaranteed luxury experience.
Our premium arifare experts are on hand to help find you the right flight to the USA at best possible price. They will take care of any special requests you have and even book you the best seat on the plane. Call or email for a quote today.
Airlines that fly First Class to the USA
Kuwait Airways
United Airlines
Airlines that fly Business Class to the USA
Aer Lingus
Delta Air Lines
Icelandair
Scandinavian Airlines
TAP Portugal
United Airlines
Premium Economy Airlines that fly to the USA
We recommend
If you are flying at night or want to be well rested upon arrival, a number of airlines offer flat beds for premium passengers, including Air France, Air New Zealand, American Airlines, British Airways and Virgin Atlantic.
The majority of flights to the USA depart from London Heathrow, however a number of Business Class and Premium Economy flights are also offered from London Gatwick, Birmingham, Manchester, Newcastle and Scotland. For specific departures and advice on the best seat, talk to a First and Business expert.
Premium Economy
Business Class
First Class
We don't have any flights available online right now for this destination, but our First and Business Premium Airfare Experts can still help you find exactly what you want.
To find out about our latest flight deals, call us on 0800 082 1174 or enquire online today
Luxury Escapes
About the USA
Your United States of America Holiday Experience
The land of dreams, where anything is possible, where your unforgettable holiday awaits; the USA.
Central Park, New York
From the stylish sophistication of Boston, Massachusetts to the pristine white beaches of Miami, Florida, the USA has so much to offer that it's an absolute must for your next luxury getaway.
Coined the city that never sleeps, New York is a fantastic choice for those looking for exquisite dining, ultimate shopping and stunning culture. Soak up the arts with New York's many inspiring museums, take an awe-inspiring helicopter trip round the Statue of Liberty or sail the harbour for a romantic evening dinner. With endless opportunities to shop for some of the most iconic and luxurious brands, New York is a shoppers dream.
Miami South Beach
If you're looking for a more glamorous affair, then look no further than Miami, with its pristine palm fringed beaches and buzzing boulevards. Miami is an aesthetic masterpiece, culturally merging Anglo America, Latin America and the Caribbean to create a feast of colour, style and character. For the more adventurous, why not experience nature at its best on an Airboat tour of the Everglades National Park. Whether it's glamour or adventure, or in fact both, you're after let Miami cast her spell on you.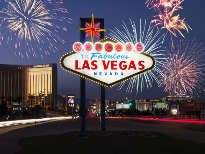 Las Vegas Welcome Sign
Looking for glitz, glamour and flamboyance? Your next stop needs to be Las Vegas. With its ostentatious character, Las Vegas quite easily steals New York's crown of the city that never sleeps - this is the city that never sleeps, period. For the ultimate in escapes, Vegas will give you it all. Take a thrilling helicopter ride over the Grand Canyon and enjoy a champagne breakfast on arrival or simply while away the hours in this Technicolor spectacle that is Vegas baby.
The United States of America, the land of dreams - will it be the land of your dreams?