Experience the Best Airline of the Year 2014
Cathay Pacific has a vision to be the World's Best Airline and is always striving for greatness in everything they do, from safety to service; they are continually aiming to achieve perfection. With one of the youngest fleets in the industry you will be sure to experience absolute luxury in the sky when flying in one of their Premium, Business or First Class cabins.
The new Business Class – Behind the Design
Having their hub in the vibrant city of Hong Kong, Cathay Pacific continue to invest in, not only their fleet, but catering, aircraft maintenance and ground handling companies, meaning your whole experience from check-in and baggage reclaim to onboard cuisine and flight safety with Cathay Pacific will be second to none.
The new Business Class - Behind the Build
With only a handful of exclusive First Class seats, fully lie flat beds in Business Class and wider seats with greater recline in the Premium Economy cabin, your flight will certainly leave you relaxed and rejuvenated.
Cathay Pacific premium flights are currently on SALE – below are just a selection of the offers available. To experience the Best Airline of the Year 2014 for yourself email or call our premium airfare experts today.
Call our First and Business Experts Now
0800 082 1174  or  0333 333 6885
Cathay Pacific Flight Deals
We don't have any flights available online right now for this destination, but our First and Business Premium Airfare Experts can still help you find exactly what you want.
To find out about our latest flight deals, call us on 0800 082 1174 or enquire online today
Cathay Pacific Premium Cabins
Experience One of the Best Airlines in the Sky
With one of the youngest fleets in the sky and flying to over 150 destinations worldwide from its hub in Hong Kong, Cathay Pacific is committed to operating a global, modern and fuel-efficient fleet. Continually striving to be the best in the sky and having won many awards, including Best Business Class, your flight with Cathay Pacific will be nothing less than exceptional.
Premium Economy
Premium Economy – Behind the Design
Take the inviting features of economy and add the unique benefits of an exclusive cabin, wider seats with greater recline and you have Cathay Pacific's popular Premium Economy. The enhanced service starts on the ground with a dedicated check-in counter, increased baggage and priority boarding. Once onboard, enjoy the extra room and attentive Premium Economy service with an amenity travel kit, welcome drink, hot towels, extra storage and an enhanced menu.
Cathay Pacific Premium Economy
A full range of in-flight video and audio entertainment is available on the Cathay Pacific CX entertainment system. Spend hours watching the latest movies and other programs or stream content directly from your personal electronic device to your 10.6 inch widescreen TV. Noise cancelling headsets are available for added enjoyment.
The menu in Premium Economy offers several selections for an enhanced dining experience. Snacks, complimentary bottles of water and full bar and beverage service can be enjoyed throughout the flight.
Business Class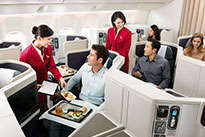 Cathay Pacific Business Class
Business Class offers a sophisticated and private space but one with direct aisle access no matter where you sit. The comfortable seat turns into a fully lie flat bed and even comes with an extension for greater seat width. Ample storage space means there is a place for all those important travel items such as toiletries, eye glasses and mobile phones. Passengers can even control the level of privacy they would like with a storage consol acting as a privacy screen.
The new Business Class – Behind the Design
Business class seats feature large TV monitors with touch screen usability. Hundreds of entertainment options are available as well as streaming capability from personal electronic devices with in-seat connectivity. Noise cancelling headphones deliver superior sound quality and block out ambient noise for greater entertainment enjoyment.
The superb service extends to in-flight dining with chef inspired menus offering delicious 3 course meals that are served separately. Menu offerings include both Asian and western selections along with the finest wines, spirits and liqueurs. Snacks and beverages are also available throughout the flight.
First Class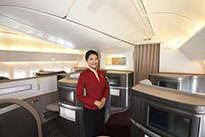 Cathay Pacific First Class
Be lead through a private entrance into a luxurious cabin onboard Cathay Pacific First Class. With only nine seats onboard the airline's Boeing 747-400 aircraft and six seats on Boeing 777-300ER aircraft, you can enjoy an intimate and spacious experience in the sky. Stretch out in privacy on your full-length fully flat bed and enjoy a good night's rest with luxury duvets, pillows and sleep suit.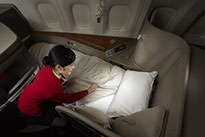 Cathay Pacific First Class
Enjoy the airline's impressive Studio CX entertainment system featuring over 100 movies and 500 TV programmes, from the comfort of your 17 inch personal TV screen.
With a state of the air galley onboard, Cathay Pacific serves a superb array of Asian and International cuisine that is made to order for all First Class guests.
Your luxury getaway with Cathay Pacific
Your Luxury Getaway with Cathay Pacific
Flying to over 150 destinations worldwide, Cathay Pacific will fly you in style to your next luxury getaway.
Here are three of our favourite luxury holiday destinations Cathay Pacific fly to:
Hong Kong
A stop off in Cathay Pacific's hub city, vibrant Hong Kong, is the perfect choice for a luxury city break. A city oozing with culture from its Chinese roots and shining brightly from its modern day skyline, Hong Kong is a melting pot for the senses. Lose yourself in the night markets and street food stalls that line the narrow streets of the city or climb the 260 steps to the Tian Tan Buddha, a 23m high seated bronze Buddha. With the opportunity to embark on some fantastic day trips to the likes of lively and inspiring Macau and the beautiful Shenzhen Safari Park that sits on the tranquil Xili Lake where you can witness rare and nationally protected animals, including Asian elephants, Siberian Tigers and Pandas, Hong Kong has it all for your next luxury escape.
Click here to view some of the Hong Kong Luxury City Escapes we have on offer in our First and Business Luxury Holiday Collection.
Langkawi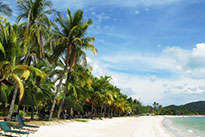 If pure indulgent luxury is what you're after against the backdrop of incredible, rare primary rainforest, Langkawi is the destination for you. Just a short internal flight from Kuala Lumpur is pristine waters, untouched rainforest and traditional Malay culture permeating from every corner. Langkawi is a tropical paradise not to be missed. With a plethora of activities from cycling to scuba diving you can do as much or as little as you like on this incredible island.
Click here to view some of the Langkawi Luxury Beach Escapes we have on offer in our First and Business Luxury Holiday Collection.
Maldives
Escape to what is quintessentially referred to as paradise and head to The Maldives for pure indulgence in the finer things in life. The Maldives is the epitome of luxury and the home of 'no news, no shoes' so you can rest assured a holiday to this exquisite island will be pure, unadulterated tranquillity. There are many exclusive options in The Maldives to make your stay even more special, from seaplane transfers and underwater spas to private Jacuzzis and bespoke experiences. If it is wonderful coral reefs, stunning sunsets and gourmet dining that you're after The Maldives should be at the top of your list.
Click here to view some of the Maldives Luxury Beach Escapes we have on offer in our First and Business Luxury Holiday Collection.