Classica – Economy
Keep the comfort without breaking the bank. Alitalia's Classica (Economy) class is spacious (seat pitches around 31-31 inches) and on its new Airbus A330s and B777s offers individual entertainment systems, as well as satellite phones for calling the ground, or simply for calling your companion in the next row: why not?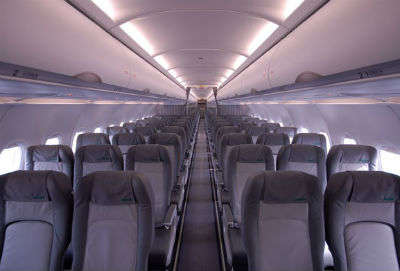 Entertainment: Enjoy more than 45 Italian and Hollywood movie options on high-tech seatback screens (only on the new A330s and B777s). TV programmes, games, music and cartoons, there's something to keep every passenger occupied.
Food and Beverage: Options vary according to the duration of the flight. On long-haul international flights departing from Italy, you can choose from two different menus – one for your main meal and the other for breakfast or a snack.
Classica Plus – Premium Economy
If you've got a bit of extra cash to spare, Classica Plus (Premium Economy) is real value for money. Before the flight, take advantage of dedicated check-in desks and priority boarding. On board, passengers will not only benefit from a separate cabin section with less than 25 travelling companions, but the seats are bigger too: reclining around 120 degrees and offering 40 percent more legroom when compared to Classica. On night flights, you can expect a good rest too thanks to a night kit with blanket and pillow, an amenity kit, and the provision of a warm towel when you need it most.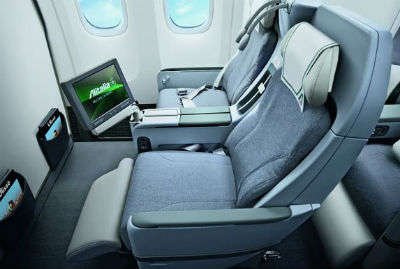 Entertainment: Feeling wide awake? Watch one of 45 movies and news channels on a personal 10.6-inch LCD screen, which comes with noise-reduction headphones to filter out any background noise. Alternatively, use the in-seat USB port to charge your laptop and use your own entertainment instead.
Food and Beverage: Dependant on flight schedule, warm meals, snacks or breakfasts – in addition to a welcome apertif – will keep you feeling full and comfortable throughout your journey. Choose from pasta or meat and vegetables, paired with fine wines and soft drinks.
Ottima – Business Class
Begin with the comfort of Alitalia and SkyTeam lounges befopre breezing through preferential gates, dedicated check-in desks and priority boarding. The A320s offer ergonomic leather Recaro seats and just four per row, resulting in a more exclusive experience.
Entertainment: Aboard the Alitalia Airbus fleets, Ottima passengers can enjoy a range of music, television programmes and movies, chosen to suit a wide variety of tastes and shown on ceilinging mounted TV screens. 
Food and Beverage: Inspired by Italian tradition, Ottima meals are changed according to the season to make your flight more authentic. To make it even more enjoyable, the meals are accompanied by a wide range of beverages – including wines from the plane's on-board wine cellar. Hot drinks and soft drinks will be served throughout the duration of the flight and, before every meal service, you will also be offered a hot hand towel.
Magnifica – First/Business Class
Combining Alitalia's best level of service with the finest Italian cuisine, Magnifica offers an unforgettable travel experience. Dedicated check-in desks, priority gates and the comfort of the Alitalia and SkyTeam lounges will welcome you, followed by impeccable on-board service. Leather seats recline up to 180 degrees, transforming into a full flat-bed with massage setting; the lights dim according to the time of day; and, from the comfort of a soft duvet and pillow, you can choose from a range of entertainment options on your 15.4-inch TV screen. Complete your experience with a luxury Salvatore Ferragamo amenity kit.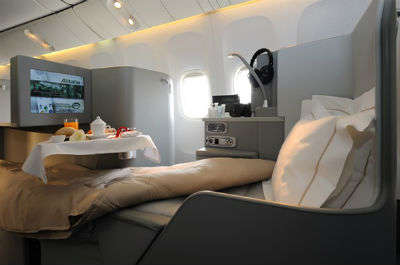 Entertainment: Personal TV screens with noise-cancelling headphones offer non-stop viewing and listening joy. The screen even has a privacy setting, so only you can see what's on.
Food and Beverage: Served on a spacious table and accompanied by chinaware, silverware and glassware from a Richard Ginori collaboration, mealtimes in Magnifica class are an absolute delight. Voted as having the 'Best Airline Cuisine' by more than 28,000 frequent flyers in 2010, 2011, 2012 and 2013, it's no surprise the food is to die for. Simple, yet rich in flavour, choose from a range of Italian classics, accompanied by the best wines the country has to offer.
British Airways Baggage Allowance
Carry-on
Alitalia's carry-on policy allows for one bag with a weight restriction of 8kg and within the dimensions of 55cm x 35cm x 25cm. Sizing includes handles, side pockets and wheels. Briefcases and laptops may be brought on in addition to the limits indicated.

For easy access, place commonly used in-flight items in a smaller bag underneath the seat in front of you.
Checked
Checked baggage allowances vary depending on flight routing, cabin class and frequent flyer status. Check with your Flight Centre Airfare Expert in advance for specific baggage policies, but generally allowances are as follows:
Classica / Economy class - one bag with a maximum weight of 23kg
Classica Plus / Premium Economy - two bags weighing up to 23kg each
Ottima and Magnifica / Business - two bags with a maximum of 32kg each
Executive club members can take an extra 23kg worth of baggage in Classica or Classica Plus and 32kg in either Ottima or Magnifica.

Baggage allowances may differ on other airlines. Check beforehand if your itinerary includes travel on an alliance partner airline.
Bulky Items
Many bulky items such as sporting equipment and musical instruments can be checked in as part of a passengers free baggage allowance. Musical instruments that fit within the carry-on size dimensions can be taken in the cabin. Your Flight Centre Travel Expert can help determine what items are permitted and what items will incur an additional charge.

Non-motorised bicycles are permitted only if packed in a protective case or bag. Pedals should be removed and tyres deflated.

Infant Baggage
Children aged two to 11 years are entitled to the same allowance as an adult passenger. Infants aged 0-23 months are allowed one piece of luggage, with a maximum weight of 10kg. Pushchairs can be checked in free of charge for children under 12.

Infants are considered under the age of two. Children aged two and older must have a seat purchased for them.
Restricted Dangerous or Goods
There are many liquids and materials that are banned from flying. Consult with your Flight Centre Airfare Expert on specific items that are banned. Flammable liquids, gases and materials such as matches are not allowed. Explosives, fireworks, poisons, fertilizers are also banned substances.

Equipment with petrol engines are sometimes allowed to fly if drained of fuel before hand. Always check with your Flight Centre consultant before departure on what is allowed on board.
Check-in at Your Leisure
There are various ways to check in for your flight on Alitalia:
Online – Online check-in is available from two days before your flight. You will just need to enter your reservation number, select your flight and choose any additional services before printing your boarding pass
Mobile – Receive your boarding pass directly to your phone when you connect to m.alitalia.com. Enter your booking number and you will receive a text message with a link to your electronic boarding pass and a barcode
Airport Kiosk – Fast check-in is available at many airports where self-serve kiosks are available and you can check-in up to seven passengers at once. Simply follow the on-screen instructions to enter your booking number, select your seat and print your passes
Counter – Airport check-in counters for international flights usually open about three hours before departure. For international flights allow at least two hours
International Check-in Guide
at home
Know what time you need to leave the house to get to the airport
Pack your things, check out our baggage guide
Have your flight itinerary ready
Ensure you have your valid passport ready
Getting there
Be at the airport at least

120 minutes

prior to scheduled departure time
At the airport
Proceed to check-in counter with passport and itinerary ready
Go through security
Continue through customs
Check the gate number and flight status
Sit down and get comfy!
Alitalia Lounges
Alitalia offers access to 12 lounges across Italy and around the world. Access varies dependent on the lounge and type of ticket. Flyers can buy single admission tickets however, entry is €30 for adults, €15 for children and free for and infants.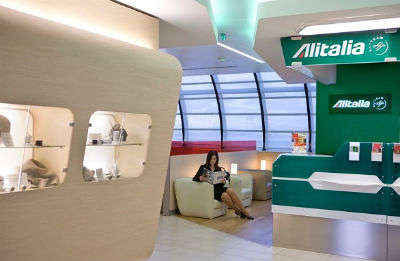 Alitalia lounges offer a range of services and comforts that you can't necessarily access in the main terminal – from personalised check-in desks and office areas equipped with complimentary Wi-Fi, to relaxation areas and bars awash with chaise longues, TVs, newspapers and a wide range of spirits and soft drinks.
Alitalia Loyalty Program
Alitalia is a member of the SkyTeam alliance and frequent flyer points can be earned and redeemed on these partner carriers. SkyTeam members include Air Europa, AeroMexico, Air France, Vietnam Airlines, Delta, KLM and others.
The airline is also partnered with Etihad Airways, GOL, Jet Airways, Malaysia Airlines and QANTAS.