Airport Details
Airport Full Name
Ben-Gurion Airport
.
IATA Code
TLV
.
Location:
The airport is situated nine miles (14km) southeast of Tel Aviv, and 30 miles (50km) west of Jerusalem.
.
Airport Facilities

Money and communications: currency exchange, ATMs, banks, public telephones and a post office.
Luggage: Luggage carts are free of charge. The Lost and Found desk and luggage storage are located on the ground level of the short-term (western) parking lot.
Conference and business: Business facilities, including internet access and fax machines, are available in the airline lounges, particularly the Arbel lounge, the two Dan lounges, the El Al King David lounge and the Metsada lounge. The airport does not have conference facilities, but a number of hotels in Tel Aviv (such as the Carlton and the Intercontinental) offer great conference services.
Information: Information desks are located in the departures area and in the airport's central arrivals hall. There are also a number of computerised information machines. The tourist information office is in the arrivals hall - just look for the desk with loads of brochures and pictures of beaches, the Dead Sea and Jerusalem. Staff speak Hebrew and English and the tourist centre is open 24 hours a day.
WiFi: Free wi-fi is available in Terminal 3. Simply open your browser and surf away.
Shopping: The main shopping area at Ben Gurion International Airport, located on the same level as passport control in departures, is aptly named Buy & Bye. There is everything from small change items (books and holiday souvenirs) to big spender boutiques with items such as Dead Sea mud cosmetic products, electronics, fashion and alcohol.
Food and Drink: Passengers travelling to and from Ben Gurion International Airport are spoilt for choice when it comes to dining options. Passengers rushing to catch a flight can grab a quick coffee from one of the numerous coffee shops in the terminal. Fast food joints such as Mc Donald's and Pizza Hut have also made their mark, or for those wanting some kosher cuisine there are a number of places that stock typical Israeli salads, falafel, pita, humus and much, much more.
Other facilities: The Ben Gurion Airport has two synagogues, medical clinics, a police station, a VAT refund desk, special needs assistance services, a playroom and a mother and child room.
.
Transfers

Train: Trains are the best option for getting into Tel Aviv; they're clean, fast and cheap. Trains run from level S of Terminal 3 to Tel Aviv Savidor Station. Tickets cost ILS 10 and the trip into town takes 20 minutes. Passengers arriving after midnight will have to wait until 3am for the first train of the day.
Taxis: Taxis usually wait outside the arrivals hall. Taxi fare for the nine mile (15km) trip into town costs ILS 90. There is an added surcharge at night and on Jewish holidays and the Sabbath.
Bus: Buses run from the nearby Airport City rather than the airport itself. Passengers can take the free Egged No. 5 Shuttle from the second floor of arrivals to Airport City.
.
Contact

Tel: +972 (0)3 975 5555.
Climate Details (C)
| | | | | | | | | | | | | |
| --- | --- | --- | --- | --- | --- | --- | --- | --- | --- | --- | --- | --- |
| | J | F | M | A | M | J | J | A | S | O | N | D |
| Min | 10 | 10 | 11 | 14 | 17 | 21 | 23 | 24 | 22 | 19 | 15 | 11 |
| Max | 17 | 18 | 19 | 23 | 25 | 27 | 29 | 30 | 29 | 27 | 23 | 19 |
Travel Guides: Tel Aviv
General Information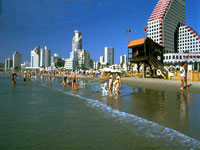 Tel Aviv is a vibrant modern city that is best known for its sun-drenched beaches, pumping nightclubs, designer shopping, crowded street markets and high culture. What it lacks in antiquities, Tel Aviv makes up for in commerce. One third of Israel's population have made this bustling metropolis home. Over weekends, residents from nearby towns head to Tel Aviv looking for entertainment and relaxation and city-slickers spill out onto the city's beaches to soak up the Mediterranean sun along a six-mile (10km) stretch of golden sand. The diversity of the population is reflected in the architectural variations and influences, such as the Yemenite Quarter and the Vodka cafes of Allenby Street. Tel Aviv also provides an ideal base from which to explore other parts of Israel, including Jaffa, the Galilee area and Caesarea.
Getting Around
The easiest way to get around Tel Aviv is on foot or by taxi. Taxi mini-buses ( sheruts) follow the same routes as the public buses, often with more frequency and are slightly cheaper on weekdays. The bus system itself is extensive with a fixed fare in the city-centre. Taxi cabs are not of any particular make or model car, but do have rooftop signs and are plentiful. Fares are metered and more expensive at night. Driving in Tel Aviv is not for the faint-hearted, as local drivers tend to be aggressive and impatient.
Activities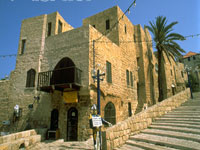 Jaffa, Tel Aviv
The historical port city of Jaffa is easily reached from Tel Aviv by foot or car. Its inhabitants have included notable biblical, Greek and Roman figures, and its name is said to have been derived from Japhet, Noah's son. Archaeological finds indicate that Jaffa existed as a port city 4,000 years ago, serving both Egyptian and Phoenician sailors on their sea voyages. The entrance to the Old Town is marked by the Ottoman Clock Tower, a prominent landmark and meeting-point. Jaffa has become a popular tourist attraction filled with interesting shops, Mediterranean-style restaurants and sun-drenched cafes. There are artist quarters, studios and galleries as well as shops specialising in Judaica and archaeology. At night the historical walls are illuminated, revealing a beautiful architectural backdrop offset against the soft lapping of the sea against the ancient port walls. An exploration into Jaffa's history can be experienced at the Jaffa Museum, which contains a dazzling collection of artefacts. (The museum is located at 10 Mifratz Shlomo Street, Old Jaffa and is open from Sunday to Thursday between 9am and 1pm.)
Museum of the Jewish Diaspora (Beit Hatefutsot), Tel Aviv
The focus of this museum is to convey the story of the Jewish people, from the time of the expulsion of the Jews from Israel by the Romans 2,500 years ago, to their subsequent return to Israel. The multi-storey displays and exhibitions reflect the diverse Jewish communities that have been sustained over time by common cultural and religious links. The Jewish Music Centre has thousands of recordings of Jewish music, from traditional fare to the music of communities that were wiped out in the Holocaust, as well as works by Jewish composers. There is also a genealogy centre where visitors can explore their ancestry from thousands of records of Jewish families from around the world, and register their own family trees for future generations.
Opening Times:
Open Sunday to Thursday from 10am to 7pm, and Friday from 9am to 2pm
Admission:
NIS 40 (adults), NIS 30 (children). Concessions are available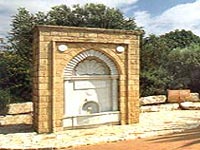 Eretz Israel Museum (The Land of Israel Museum), Tel Aviv
The Eretz Israel Museum has a unique layout and character, more in the nature of a museum park clustered around the ancient mound of the Tel Kasile, where ongoing archaeological excavations are in progress. The museum consists of various pavilions, each displaying different cultural facets and collections. Visitors can purchase a map to help them navigate through this fascinating campus, which covers 3,000 years of history, culture and art relating to the land of Israel.
Opening Times:
Sunday to Wednesday 10am to 4pm, Thursday 10 am to 8pm, Friday and Saturday 10am to 2pm
Admission:
NIS42 (adults), NIS28 (student). Children under 18 free. Other concessions available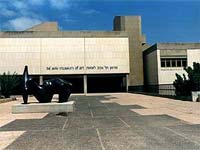 Tel Aviv Museum of Art, Tel Aviv
The Tel Aviv Museum of Art has boasted the country's leading exhibition of modern art since its inception in 1932. A permanent collection of European and American art features prominent Impressionist and Post-Impressionist paintings by Chagall, Dali, Cezanne and Monet. The museum offers an active program of changing exhibitions, as well as exciting cultural programs such as music and dance performances, cinema screenings and public lectures.
Getting There:
Bus 9,18, 28, 70, 90 or 111
Opening Times:
Open Monday and Wednesday from 10am to 4pm; Tuesday and Thursday from 10am to 10pm; Friday from 10am to 2pm; and Saturday from 10am to 4pm.
Admission:
NIS 42 (adults), NIS 34 (students), Free for Children under 18 years
Beaches, Tel Aviv
Given the fact that the whole of the city's western edge is one long strip of gorgeous Mediterranean coastline, it's unsurprising that going to the beach is one of Tel Aviv's most popular tourist activities. Blessed with fine, dry and sunny weather for most of the year, sandy beaches and warm sea temperatures, Tel Aviv is a great choice for travellers seeking a beach holiday abroad. The coastline is divided into about ten beaches, all of which have their own appeal. The best beach for swimming in Tel Aviv is the Hilton Beach, while Gordon Beach is popular with tourists and has some good bars and cafes. Drums Beach is popular among backpackers (there are evening drumming sessions at the local hangout, the Chinky Beach Bar), and gay travellers will feel especially at home at Atzmout Beach. Most beaches in Tel Aviv are free, and boast decent facilities (such as toilets, showers, umbrellas and deck chairs).
Carmel Market, Tel Aviv
The Carmel Market - or Shuk Ha'Carmel - will entrance all visitors to Tel Aviv with its bustling atmosphere and fine selection of goods and produce. Located in the 'trendy side' of town (just off Allenby Street), the Carmel Market is basically one long alley, jam-packed with shoppers and vendors loudly advertising their wares. Although you can buy almost anything at the Carmel Market - from clothing and footwear to flowers, trinkets and cell phone accessories - and usually at better prices than you'll find elsewhere in the city, the real attraction is its mouth-watering array of fresh produce. Shop for the freshest fruit and vegetables, cheeses and baked goods, while soaking up the typically Middle Eastern market atmosphere. The Carmel Market operates every day of the week except Saturday.
Getting There:
Public bus routes: #1, 2, 4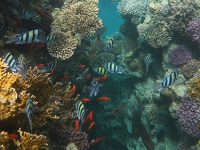 The Underwater Observatory Marine Park, Tel Aviv
Visitors to the Underwater Observatory Marine Park just south of Eilat can enjoy viewing all kinds of fantastic marine life in the gigantic 360,000-litre seawater aquarium. Animals such as eels, sharks, turtles and stingrays can be seen, while the rare fish aquarium is home to some exquisite (and poisonous) fish. There is even a kids club for younger visitors to enjoy, where they can learn about the wonders of the ocean.
Opening Times:
Open daily, from 8.30am to 5pm (till 4pm on Fridays and holiday eves)
Admission:
ILS 89 (adults); ILS 69 (children)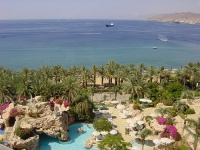 Eilat, Tel Aviv
Located at the northern tip of the Red Sea, Eilat is a popular holiday resort that boasts wonderfully warm temperatures that seldom drop below 70°F (21°C). Many visitors travel to Eilat to enjoy its fantastic diving and snorkeling opportunities in the Red Sea, one of the world's most magnificent marine preserves. Brightly coloured coral fish, moray eels and even manta rays can be seen, while landlubbers will enjoy lazing on the beautiful beach and splashing in the shallows.
A lesser-known activity in Eilat is bird-watching, as more than one billion birds navigate between the Mediterranean coast and the Jordan Mountains, making the area one of the best places to watch migratory flight. The Timna Valley National Park is located just north of Eilat and is a wonderful excursion for those wanting a day in the desert on camel-back or by jeep, while the more active can enjoy hiking in the desert mountains.
Getting There:
The best way to travel is by plane from Tel Aviv; otherwise, the journey time is approximately 4 hours by car from either Tel Aviv or Jerusalem.
Restaurants
The Salon
One of the most talked-about and widely reviewed restaurants in Tel Aviv, The Salon is the perfect place to go for a memorable night on the town. Chef Eyal Shani's talent and 'outsize personality' have been praised by The Washington Post, and diners are encouraged to try his more outlandish combinations. Booking ahead is essential.
Address:
8 Ma'avar Yabuk
Onami
Considered to boast the best Asian menu in Tel Aviv, Onami is a massively popular restaurant among tourists and locals alike. Their tofu dishes are famed, and their sushi dishes are celebrated for their inventiveness and flair. Bookings are recommended.
Address:
18 Ha'Arbaa Street
Abu-Hassan
Sometimes the simplest dishes can be the tastiest: Abu-Hassan has been turning out humus-and-pita bread meals for over 40 years, and has earned itself a formidable reputation. Cheap, delicious and popular with locals, you can't go wrong with this place.
Address:
Three branches: 1 Dolphin Street, 14 Shivtai Israel Street, 18 Shivtai Israel St