Climate Details (C)
| | | | | | | | | | | | | |
| --- | --- | --- | --- | --- | --- | --- | --- | --- | --- | --- | --- | --- |
| | J | F | M | A | M | J | J | A | S | O | N | D |
| Min | 3 | 5 | 9 | 12 | 17 | 21 | 22 | 22 | 20 | 14 | 9 | 5 |
| Max | 15 | 17 | 21 | 25 | 29 | 32 | 33 | 32 | 30 | 25 | 21 | 17 |
Travel Guides: Savannah
General Information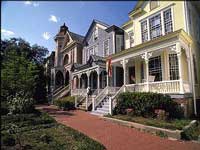 Credited as being the first planned city in the United States, Georgia's sultry city of Savannah is positioned on a bluff above the Savannah River, a few miles upstream from the Atlantic Ocean state coastline. This Southern belle is full of charm, and her old-fashioned hospitality and small-town atmosphere invites visitors to stroll back in time, right to 1733 when the city was first founded by British General James Oglethorpe with the permission of native Yamacraw Indian chief Tomo-chi-chi.
With one of the country's largest preserved historical urban areas, one can't help but experience a sense of this city's colourful past, as you stroll past grandiose mansions and Spanish moss-covered oaks, sipping mint juleps. The city's legacy as a major player in the cotton industry is still evident in the Savannah Cotton Exchange, and the Pink House, dating back to 1789 and home to Georgia's first bank also bears testimony to the economic prosperity of the region. Apart from hundreds of architecturally significant buildings Savannah is also not lacking in restaurants, shops (particularly fine antique stores), Civil War forts, museums, galleries, quaint squares and lovely beaches, all earning it the nickname, 'the Hostess City of the South'.
Strategically positioned on the north of the Georgia coastline, Savannah serves as an excellent starting point for exploring the scenic barrier islands, resort towns and inlets found along the coast. Of course it is also imperative one try the region's world-famous shrimp that is caught and cooked in a variety of ways.
Getting Around
Savannah's historic district is best explored on foot; paths and steps down to the waterfront can be steep. Countless walking tours are offered. Savannah's CAT (Chatham Area Transit Company) Shuttle is a free, convenient shuttle service operating along 32 stops throughout the historic district, connecting shops, hotels, attractions and other bus routes. CAT also provides a fixed route bus service throughout the city and surrounding county. The Belles Ferry leaves the ferry landings on River Street connecting to Hutchinson Island at regular intervals at a fare of $3 per person. The city also has numerous car hire companies and several taxi companies. A horse and carriage ride through the city is also an option.
Activities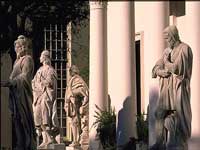 Telfair Museum of Art, Savannah
The Telfair Museum of Art is the oldest public art museum in the South, fittingly housed in an important historic building, the Owens-Thomas House. The house, overlooking Oglethorpe Square, was designed by William Jay, a young English architect, who introduced the British Regency style to America. It was built in 1818 for Alexander Telfair, son of the Governor of Georgia. The art museum's permanent collection includes paintings, works on paper, sculpture and decorative arts by both American and European artists. The museum encompasses the art gallery, restored rooms in the historic house, and the Jepson Center for the Arts. Guided tours are offered daily, included in the admission price.
Opening Times:
Monday, Wednesday, Friday, Saturday 10am-5pm, Thursday 10am-8pm, Sunday 12pm-5pm. Closed on Tuesday.
Admission:
$20 (adults), $5 (students), concessions available. Combination tickets for the Jepson Center for the Arts, the Telfair Museum and the Owens-Thomas House are available.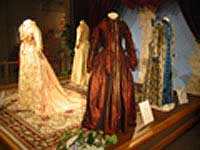 Savannah History Museum, Savannah
The Savannah History Museum gives an excellent introduction to the city, its exhibits reflecting the city's history from her founding to the present day. The museum is housed in a restored railway station that dates from before the Civil War and is one of Georgia's 43 National Historic Landmarks. Beneath the building are the graves of Polish Count Pulaski and his fellow colonists, killed on this spot in 1779 while trying to drive off the British soldiers.
Opening Times:
Weekdays 8:30am-5pm, 9am-5pm on weekends.
Admission:
$14 (adults), $4 (children) for an all-site pass, valid for three days.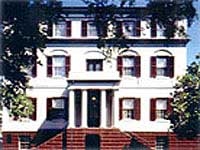 Juliette Gordon Low Birthplace, Savannah
The majestic Regency town house that stands in Savannah's historic district was the birthplace of Juliette 'Daisy' Low, founder of the Girl Scouts of the USA. Visitors learn about the Girl Scouts movement and experience a taste of Victorian family life. The house, which was built in 1821, is a National Historic Landmark and is furnished with many original pieces and also features the artwork of Juliette Gordon Low.
Opening Times:
Tours are Monday to Saturday 10am-4pm; Sunday 11am-4pm. Closed on Wednesdays from November to February, and on major holidays.
Admission:
$8 (adults), $7 (students 6-20). Other concessions available.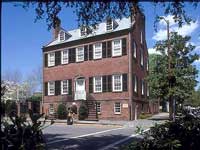 Davenport House, Savannah
This beautiful characteristic pink homestead at the heart of Savannah's historic district was the first of the city's architectural treasures to be saved for posterity. It was the threatened demolition of this house that goaded the city's residents to form a fund to preserve Savannah's historic heritage. The house was built between 1815 and 1820 by Isaiah Davenport, a master builder. It features a semi-circular staircase with wrought-iron trim leading up to the recessed front door. Inside the polished hardwood floors gleam and the mansion is furnished befitting the period with Hepplewhite, Chippendale and Sheraton pieces.
Opening Times:
Monday to Saturday 10am-4pm; Sunday 1pm-4pm. Guided tours run every 30 minutes.
Admission:
Tours: $8 (adults), $5 (children 6-17). Other concessions available.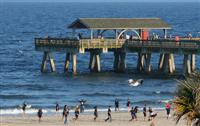 Tybee Island, Savannah
The small barrier island of Tybee, 18 miles (29km) east of Savannah, is a popular seaside resort for locals and visitors alike. The three-mile (5km) long beach has rolling sand-dunes, and at the south end of the island a pier and pavilion offer a pleasant stroll, usually accompanied by live band music. Apart from swimming and sun worshipping, the island also has sightseeing opportunities including Fort Screven, a historic Tybee lighthouse dating to 1773, an intriguing museum and Fort Pulaski. There is a selection of restaurants, hotels, motels, inns and cottages available.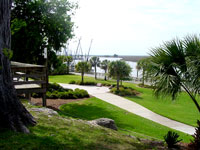 Darien, Savannah
A short drive south of Savannah lies the charming old town of Darien, established in 1736 on the banks of the Darien River as a military outpost. Today it is a favoured tourist town; its historic shopping enclave specialises in unique gifts and antiques, and the picturesque waterfront is lined with shrimp boats. A series of walking and bike paths, lined with Spanish moss-draped oak trees, connect the downtown waterfront with Fort King George, which houses a museum and plays host to living history pageants. Other diversions include paddling the river and tidal creeks in kayaks or canoes and dining on delicious shrimp. The area around Darien in McIntosh county is extremely scenic, dotted with quaint fishing villages like Valona and Shellman Bluff. Just offshore, accessible by ferry across Doboy Sound, is the pristine barrier island of Sapelo, which boasts one of Georgia's most beautiful beaches and a restored lighthouse.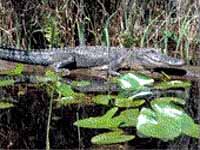 Okefenokee Swamp, Savannah
The mysterious Okefenokee Swamp comprises 700 square miles (1,813 sq km) of wet, green wilderness stretching across the southern part of coastal Georgia. The largest peat-producing bog in North America, Okefenokee is a national treasure because it provides a refuge for a vast number of animals and plants that thrive in its lakes, islands and wetlands. The park consists of different environments, from towering cypress stands in still waters to vast prairie grasslands in other areas. Visitors have four parks to choose from when pursuing an Okefenokee experience: three of the parks are on the east side of the swamp and one on the southwestern side. All three offer sightseeing, boating and fishing opportunities. The southwestern park is Stephen C. Foster State Park, featuring cypress swamps, at the headwaters of the Suwannee River, near Fargo. Laura S. Walker State Park is near Waycross, on the swamp's margin. South of Waycross Okefenokee Swamp Park has some alligators, snakes and other swamp wildlife in easy-to-see captivity for a quick swamp experience, while Suwannee Canal Recreation Area near Folkston provides access to the prairie environment of the swamp, offering nature boardwalks and historic sites.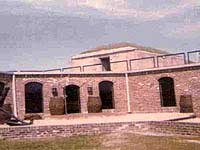 Fort Jackson, Savannah
A short distance to the east of central Savannah stands Georgia's oldest standing fort, surrounded by a deep tidal moat. The fort was preceded by a mud battery, the brick fort having been built in 1808. It was the headquarters for the Confederate river defences during the Civil War, when it was enlarged and strengthened. The fort today contains numerous exhibits pertaining to the war. Living history demonstrations are staged in spring and summer.
Opening Times:
Daily 9am-5pm.
Admission:
$6 (adults), free for children under six years of age. Other concessions available.
Events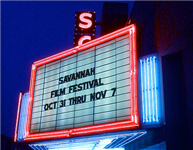 Savannah Film Festival
Hosted by the Savannah College of Art and Design, the Savannah Film Festival showcases the best in independent and innovative film-making from around the world. From feature-length movies to two-minute shorts, directed by award-winning auteurs and hopeful aspirants, the festival presents a full range of cinematic creativity. Moreover, panel discussions (involving visiting artists) offer movie buffs the opportunity to interact one-on-one with their favourite film-makers. Past honoured guests have included Sir Ian McKellen, Tommy Lee Jones, and Isabella Rossellini - so remember to look sharp, because you never know who you'll run into!
Date:
27 October to 3 November 2012
Venue:
Trustees Theatre, 32 Abercorn Street, Savannah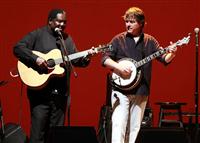 Savannah Music Festival
The Savannah Music Festival is Georgia's largest musical arts festival, and has earned a formidable reputation since its establishment in 1988. Those in the know report that, 'pound for pound', the Savannah Music Festival attracts more talent each year than the majority of music festivals in the US. A uniquely cross-genre event, that celebrates both the musical heritage of the American South and the diversity offered by international musicians, the festival is extraordinarily popular with performers and visitors alike. The festival's wonderful atmosphere of collaboration is often expressed by having musicians who specialise in different genres join each other on stage for a few, unforgettable songs.
Date:
22 March to 7 April 2012
Venue:
Various venues around Savannah