Travel Guides: Miami
General Information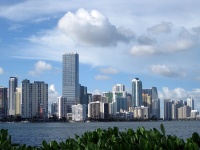 Miami may be the retirement capital of the United States, but there is nothing old fashioned about this bright, brash playground city that shines under the sunny Florida skies. This coastal city was a sleepy holiday town until the 1920s, when the 'in crowd' decided to make it their own. The town bloomed into a fun seaside capital and was blessed with a legacy of Art Deco architecture, particularly along South Beach, which has been carefully preserved. During World War II the forces came to town when Miami was an important military base. Today, apart from being a favourite holiday Mecca and sunny spot for retirees, it is also the gateway to the Caribbean and Latin America.
Miami's large Cuban community add to the atmosphere in the sultry neighbourhood of Little Havana. Trendsetters hang out in Coconut Grove, while sunlovers strew the miles of white sandy beaches. For families there are entertaining attractions like the Seaquarium and Metrozoo. The nightlife is sophisticated and varied. The city also gives easy access to Florida's popular Gold Coast resorts and attractions, as well as the natural wonder of the Florida Everglades.
No wonder Miami is America's favourite holiday destination and the hub of a vibrant cruise ship industry, its port jammed constantly with sleek passenger liners. North of the city, miles of beautiful sandy beaches of the Gold Coast are hemmed in by southeast Florida's major tourist resorts: Fort Lauderdale, Hollywood, Pompano Beach and Palm Beach.
Getting Around
The mainstay of the Miami public transport system is the Metrobus; however, the network is large, and it takes some time to get used to. The fare is standard to any destination. If you need to change buses, ask for a transfer when buying your ticket, which costs extra. There is also an elevated train service called the Metrorail, which connects North and South Miami with stations at one mile intervals, and an elevated monorail, the Metromover, which offers great views of downtown Miami and Biscayne Bay and connects with buses and trains. Most visitors, however, take taxis or hire a car. This can be more convenient, as the city is sprawled out over a large area. To rent a car, the driver must be over 21, have a valid credit card and, if from abroad, hold a passport and English language driving license. Local drivers can be aggressive.
Activities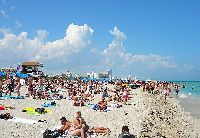 Miami Beaches, Miami
The beaches in Miami are world-famous; some for their stunning settings and some for their stunning sunbathers. Crandon Park Beach is good for children, with the playground and carousel as well as picnic areas and restrooms. Haulover Beach Park also has good facilities like volleyball and tennis courts, a golf course, concession stands and picnic tables, but parents should be aware that the northern end allows nude sunbathing. Hobie Beach is the best place for windsurfing in Miami, while the sandy beach in Oleta River State Park is popular for boating and kayaking. The central Miami beaches have good facilities, like concession stands, showers, lifeguards, walking trails and beach chair and umbrella rentals, but tend to be the most crowded at peak times. Topless sunbathing is allowed in Miami Beach.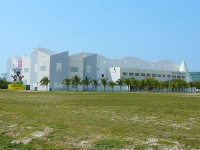 Miami Children's Museum, Miami
The child-sized exhibits at the Miami Children's Museum are both colourful and interactive. Kids can explore the museum's simulated hospital, supermarket or fire station, playing with and moving anything they like. The Mt. Michimu rock-climbing wall offers a fun, physical challenge for older children.
Opening Times:
Daily 10am-6pm. Closed Thanksgiving and Christmas.
Admission:
$15, free for children under 1 year.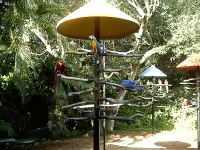 Pinecrest Gardens, Miami
Take the kids to play at the Pinecrest Gardens - its banyan trees and abundant vegetation are just crying out to be explored! Other highlights of the gardens include a fun playground, a petting zoo and the 'Splash 'n Play' water area, as well as a couple of tabled picnic spots.
Opening Times:
Daily 9am-6pm (Spring and Summer), and 9am-5pm (Fall and Winter).
Admission:
$3 (adults), $2 (children 2-17).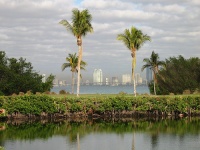 Crandon Park Beach, Miami
A family holiday in Miami wouldn't be complete without spending some time on the beach. Aside from sand and sea, Crandon Park Beach also has the Amusement Center with a carousel, a roller rink, a splash fountain and a playground for kids to enjoy. The Crandon Park Gardens are beautiful to see, and there are a few picnic spots to enjoy as well.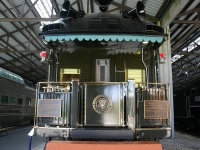 Gold Coast Railroad Museum, Miami
Kids will be delighted by the Gold Coast Railroad Museum, which offers train rides, toy trains to play with and interesting model train exhibits. The museum's railroad car collection includes President Roosevelt's historic Ferdinand Magellan carriage. In March each year there are Thomas the Tank Engine rides for children. On Saturday and Sunday between 11.00am and 4.00pm kids can ride in the cab of a locomotive and get to operate some of the controls.
Opening Times:
Monday, Tuesday, Thursday, Friday: 10am-4pm; Wednesday, Saturday, Sunday: 11am-4pm.
Admission:
$6 (adult), $4 (children 3-12).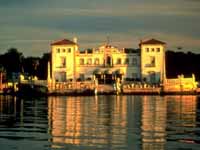 Vizcaya Villa, Miami
Lovers of antiques revel in visiting the magnificent 34-room Vizcaya bayfront villa, built in the Italian Renaissance style in 1916 as a winter retreat for wealthy industrialist, James Deering. The grand mansion took hundreds of artisans five years to complete, and the formal gardens, which surround the villa fronting on Biscayne Bay, took even longer to lay out. Today visitors can tour the villa and grounds, enjoying the original furnishings and décor in a variety of Renaissance, Baroque, Rococco and Neoclassical styles.
Getting There:
Metrorail to Vizcaya station
Opening Times:
Daily (except Tuesdays) 9:30am-4:30pm; closed Thanksgiving and Christmas Day.
Admission:
$15 (adults), $6 (children 6-12). Free for children under 5. Other concessions available.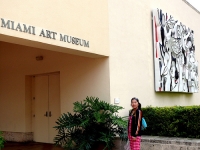 Miami-Dade Cultural Centre, Miami
The outwardly unattractive complex of the Miami-Dade Cultural Centre, in the rather unsavoury area of West Flagler Street, is worth a visit because it houses a plethora of interesting artistic and historic exhibits. The Centre contains the Miami Art Museum ( www.miamiartmuseum.org), featuring a collection of modern and contemporary works by American, Latin American and Caribbean artists. There are also themed exhibits, which bring art and artists to life, as do the twice-monthly 'happy hour' parties, organised to highlight a particular exhibit. The Cultural Centre also contains the Historical Museum of Southern Florida ( www.hmsf.org) with exhibits that relate to the fascinating history of the area and the culture, folklore and archaeology of South Florida and the Caribbean.
Getting There:
Government Center metrorail station
Opening Times:
Art Museum: Tuesday to Friday 10am-5pm, Saturday and Sunday 12pm-5pm. Closed on Monday. Historical Museum: Monday to Saturday 10am-5pm, Sunday 12pm-5pm. Closed Mondays.
Admission:
$8 (adults), $5 (children 6-12) to each museum. Free for children under 6.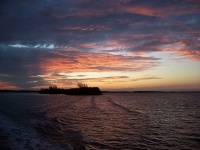 Biscayne National Park, Miami
The Biscayne National Park can be seen from downtown Miami but the two areas are completely different. The coral reefs and tiny islands of this water sanctuary are home to an abundance of wildlife for children to see, and even a couple of awe-inspiring pirate shipwrecks. This is a great camping, boating and swimming spot for families.
Opening Times:
Dante Fascell Visitor Center is open daily 9am-5pm.
Admission:
Entrance is free; Camping is $15 per night (up to six people and two tents), plus the cost of boat transportation.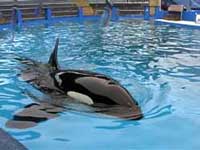 Miami Seaquarium, Miami
At least a half a day is required to fully enjoy south Florida's premier attraction. The Seaquarium is world-renowned for its marine life shows and attractions, including performing killer whales and television aquatic star and dolphin, Flipper. Another favourite star is the sea lion Salty and his colleagues, who amuse and amaze with their antics.
Opening Times:
Daily 9:30am-6pm.
Admission:
$39.95 (adults), $29.95 (children 3 to 9).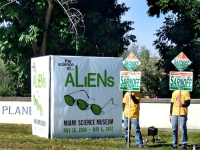 Miami Science Museum, Miami
Nothing is staid or boring in Miami, least of all its museums. The Miami Science Museum, north of Coconut Grove, contains more than 140 exhibits, all designed to be hands-on and interactive, coupled with live demonstrations and collections of rare natural history specimens that make discovering and learning a great deal of fun. The Wildlife Center boasts more than 175 live reptiles and birds of prey, and the adjacent Space Transit Planetarium provides more thrills with projected astronomy and laser light shows.
Opening Times:
Daily 10am-6pm (box office closes at 5:30pm); closed Thanksgiving and Christmas Day.
Admission:
$14.95 (adults), $10.95 (children 3-12), Free for children under 3. Other concessions are available. Prices include entrance to all museum galleries, planetarium shows and the wildlife centre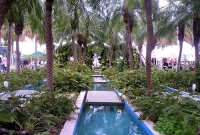 Lincoln Road Mall, Miami
A pedestrian promenade lined with palm trees and colourful art deco buildings, Lincoln Road Mall is a great haunt for locals and foreigners. Once called the 'Fifth Avenue of the South', this lively seven-block shopping district serves up big name labels like G.A.P. and Banana Republic but also houses the renowned Regal Movie Theatre and the Lincoln Theatre, home to the New World Symphony. Considered one of the best people-watching streets in South Beach, take refreshment at one of the string of sidewalk cafés or soak up some local culture at the many art galleries along the mall. The Farmers Market on Sundays is the best place for fresh vegetables, fruits, juices, homemade breads and flowers and on weekends Antique vendors display their wares along the sidewalk. At night, street performers take to the mall, entertaining passersby.
Opening Times:
Most shops are open daily 9am-6pm, as is the Sunday Market.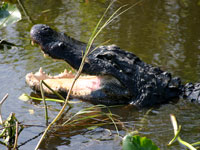 Everglades National Park, Miami
The vast Everglades National Park that spans the tip of the Florida peninsula, 35 miles (56km) southwest of Miami, has been described as a 40-mile-wide (64km) slow-moving river of grass, interspersed with shallow wetlands. It is the only subtropical preserve in North America, containing temperate and tropical plants. It also boasts dozens of endangered species that find a home in this natural habitat, like the swallowtail butterfly, American crocodile, leatherback turtle, southern bald eagle and West Indian manatee. The best way to explore the Park is by canoe; private operators however run rapid air-boat tours, which are popular with thrill-seeking visitors. The Park has been accorded several honours including its designation as a World Heritage Site, an International Biosphere Reserve and a Wetland of International Importance.
Getting There:
Greyhound buses service Homestead, but no public transport is available from there to the park entrance. There is no public transportation within the park, but canoes and kayaks can be rented in the park.
Opening Times:
Open year round; the main park entrance (near Homestead and Florida City) is open 24 hours a day. Hours vary, see the website for specific dates.
Admission:
$10 per vehicle, or $5 per pedestrian/cyclist. Passes are valid for seven days.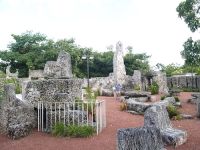 Coral Castle, Miami
Legend has it that unrequited love led a Latvian immigrant to spend 25 years single-handedly carving a castle out of rock between the Florida Keys and Miami, on the South Dixie Highway. The amazing monument to the man's determination has been called America's Stonehenge and has been featured in numerous magazine and newspaper articles. Visitors are awed by the castle, which also contains affidavits from neighbours testifying to the fact that the builder had no assistance with his mammoth task.
Opening Times:
Sunday to Thursday 8am-6pm, Friday and Saturday 8am-8pm.
Admission:
$15 (adults), $7 (children 7-12); free for children under 6.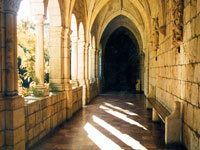 Spanish Monastery, Miami
Miami boasts the oldest building in the Western Hemisphere - but there is a catch. Dating from 1133 the Monastery of St. Bernard de Clairvaux in North Miami Beach is a hugely popular tourist attraction, although not quite indigenous to the area. The monastery stood originally in Segovia in Spain, but in the early 1950s the medieval building was bought by newspaper magnate William Randolph Hearst, disassembled, shipped to Miami and rebuilt on its present site. Guided tours are available for groups of 15 or more.
Opening Times:
Monday to Saturday 10am-4pm; Sunday 11am-4pm.
Admission:
$8 (adults), $4 (children 6-12), Free for children under 5, other concessions available.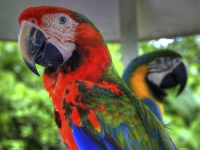 Jungle Island, Miami
An offshoot of Parrot Jungle, which was established in 1936, Jungle Island is a new complex offering an exciting array of wildlife from parrots and macaws to crocodiles and penguins. You can witness over 200 parrots at the Manu Encounter, the world's only aviary replicating the clay cliffs of Manu, Peru and at the Parrot Bowl, a gaping amphitheatre, you can be entertained by the clever antics of cockatoos, parrots and macaws. Look out for the rare albino alligator and 21-foot crocodile at the Serpentarium. A new addition to Jungle Island is the waterpark featuring the 168-foot Hippo Slide, with an exhilarating 40-degree drop.
Getting There:
But routes C, K, M, and S all provide service to Jungle Island.
Opening Times:
Weekdays 10am-5pm, Weekends 10am-6pm.
Admission:
$32.95 (adults), $24.95 (children 3-10). Other concessions available. Ticket prices do not include tax.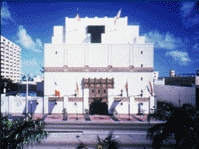 Wolfsonian Museum, Miami
A vivacious collection of art and design pieces depicting popular culture from 1885 to 1945, the Wolfsonian is the amalgamation of a long-term pursuit by eccentric heir and collector, Mitchell Wolfson Jr. Housed in the original warehouse used as a storage facility for the 70,000 pieces, visitors can pick through the origins of graphic and industrial design in the hotchpotch of distinctive propaganda art from Germany, Italy and the United States, and the remarkable industrial design pieces from modern German design to Bauhaus. Not to be missed is the über cool Dynamo café and museum shop.
Opening Times:
Thursday to Tuesday 9am-6pm. Open until 9pm Fridays, closed Wednesdays.
Admission:
$7 (adults), $5 (seniors, students and children). Free admission after 6pm on Fridays.
Events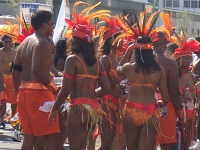 Miami Carnival
Having become a well-entrenched tradition over the past 20-odd years, the Miami Carnival is a cultural festival with a Caribbean-Latin flavour, providing a day of family fun and frolics that attracts about 50,000 people. Focus of the carnival is a colourful parade featuring steel bands, performers and dancers in flamboyant costumes, live bands and huge decorated floats. Spectators can enjoy food stalls and all sorts of allied outdoor festivities.
Date:
October 2012 TBA
Venue:
Bicentennial Park, Downtown Miami
Venue:
12pm to 11pm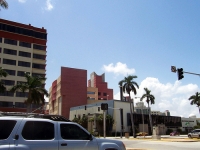 Dade Heritage Days
The Dade Heritage Trust is committed to 'preserving the best of the past for the future,' and one way this organisation has found to do this is the six-week annual line-up of events designed to stimulate awareness of and celebrate the architecture, culture, environment and people of Dade country. The programme of more than 100 events draws visitors and locals alike to take part in walking and bicycling tours, browse local crafts and gift boutiques, admire historic and architectural exhibits, watch historical re-enactments and attend lectures or film shows. For more information phone (305) 358 9572 or email info@dadeheritagetrust.org
Date:
1 March to 30 April 2012
Venue:
Various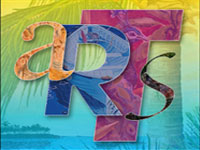 Coconut Grove Arts Festival
The charming village of Coconut Grove south of downtown Miami on Biscayne Bay becomes the setting for a premier outdoor fine arts festival during February each year, attracting more than 150,000 people to view the works of more than 330 contemporary artists, ranging from photography and sculpture to jewellery, painting and woodwork. Visitors can meet and chat with the artists, sample delicious cuisine, and enjoy live entertainment and music.
Date:
February 2013 TBA
Venue:
McFarlane Rd, South Bayshore Drive and Pan American Drive in Coconut Grove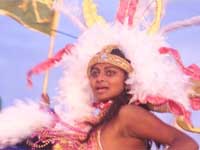 Calle Ocho
Claiming to be the biggest street party in the world, and undoubtedly the biggest Hispanic bash in the United States, Carnaval Miami offers two weeks of concerts, parades, family entertainment, sport, art exhibits and ethnic food and culminating in the massive 'Calle Ocho' street party and parade. Organised by Little Havana's Kiwanis Club in aid of needy children, Carnaval attracts a million fun-lovers who swarm through 23 city blocks. More than 40 stages are placed on intersecting avenues, from which emanates merengue, salsa, pop and Caribbean music. Food kiosks line the streets, and four blocks are devoted entirely to children's entertainment. For more information phone (305) 644 8888 or email atorrez@carnavalmiami.com
Date:
11 March 2012
Venue:
The streets of Little Havana, with the street party centring on the Orange Bowl Stadium
Venue:
11am to 7pm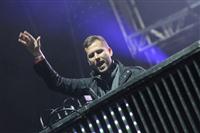 Ultra Music Festival
The Ultra Music Festival is an outdoor electronic music festival, held annually during the Winter Music Conference in Miami, Florida. The festival has grown so much in recent years, that it has become one of the highest-grossing music festivals anywhere in the world - and a veritable Mecca for electro heads everywhere. Consisting of 16 stages, involving 300 DJs, and with an expected attendance in excess of 150,000, tickets are bound to be scarce on the ground. Book now to avoid disappointment, and stock up on plenty of sleep.
Date:
23 - 25 March 2012
Venue:
Bicentennial Park, 1075 Biscayne Boulevard, Miami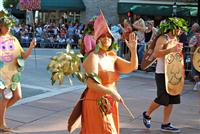 King Mango Strut
Not to be missed! Calling itself the "Weirdest Parade in the Universe", and boldly claiming to "put the NUT back in Coconut Grove", the King Mango Strut is a wild and irreverent parade, that draws vast crowds of fun-loving spectators from all over Miami and its surrounding areas. The spirit of the King Mango Strut is significantly tongue-in-cheek. Parody is the order of the day, and participants are willing to poke fun at anything and everything. Nothing is off-limits, and in the name of good satire, the boundaries of good taste are often pushed. Visitors to Miami would be ill-advised to miss this spectacle; described by the official website as "the wackiest event in South Florida (not counting the elections)".
Date:
31 December 2012
Venue:
Coconut Grove, Miami
Restaurants
Shoji Sushi
Shoji Sushi has perfected a fusion of Japanese and North American-style décor, cuisine and overall presentation. It's known for its authentic Japanese sushi box technique and features rolls such as the spicy lobster roll, a combination of mango, avocado, scallion, shiso, salmon egg and lobster. Guests can sit at the sushi bar and watch the chefs hard at work while sipping sake or a Gingertini - Shoji Sushi definitely puts a new spin on the art of sushi. Open for lunch and dinner Monday to Friday, and dinner only on weekends. Reservations recommended.
Address:
100 Collins Ave, South Beach
Palme d'Or
Voted as the best restaurant in south Florida, Palme d'Or offers glamorous dining at the prestigious Biltmore Hotel. Specialising in Nouvelle French cuisine, the menu offers tasting portions; patrons can sample the array of flavours, textures and taste sensations which Palme d'Or is renowned for. Try the slow-braised beef e ffilochéewith polenta and parmesan, or the wild mushroom cassolette. This excellent dining experience is complimented by attentive service and live music. Open Tuesday to Saturday for dinner. Reservations recommended.
Address:
1200 Anastasia Avenue, Coral Gables
Emeril's Miami Beach
A sophisticated restaurant specialising in Creole cuisine, Emeril's Miami Beach has elegant décor bathed in natural lighting, complimenting the soft beiges and whites used throughout. Red velvet seating, a glass framed bar and wraparound velvet booths complete the picture. Emeril's menu offers delights such as sugar cane skewered jumbo scallops, or pork chops with caramelized sweet potato. The signature Emeril's Banana Cream Pie is a must for dessert. Open for dinner each night, lunch Monday to Saturday and brunch on Sunday. Reservations recommended.
Address:
1601 Collins Avenue
Azul
On entering Azul, guests will be impressed by the sophisticated atmosphere created by copper-burnished walls, silk-covered chairs and a white marble open kitchen - floor to ceiling bay views won't go unnoticed either! The menu offers a unique fusion of Mediterranean and Asian cuisine, with still more international influences. The raw tuna with caviare, crab, avocado and Asian sauces is excellent, as is the Moroccan lamb. Open for dinner Monday to Saturday, reservations recommended.
Address:
500 Brickell Key Dr, Mandarin Oriental Hotel
Timo
Timo is a hip and happening restaurant in Sunny Isles, owned by executive chef Tim Andriola. The restaurant is a trendy Italian Mediterranean establishment popular with North Miami Beach locals. Specialties worth trying are the wood-fired rock shrimp pizza, or the herb-roasted chicken. Timo's atmosphere is laid-back and casual, making it the ideal place to enjoy any kind of occasion, from a business lunch to a romantic candle-lit dinner. Open for lunch Monday to Friday and dinner all week. Reservations required.
Address:
17624 Collins Ave, Sunny Isles
Señor Frog's
Señor Frog's appeals to college students and young people because of its trendy atmosphere and affordable menu. It's known for a rip-roaring good time, potent margaritas and a mariachi band. The food at this cantina is cheesy and tasty, if not exactly authentic. A specialty, the mole enchilada with 14 different kinds of mild chillies mixed with chocolate, is flavourful and unique - a definite must! Portions are huge and served with rice and beans. Open daily for lunch and dinner, reservations not accepted.
Address:
3480 Main Hwy, Coconut Grove
News Café
The South Beach breakfast establishment, News Café, offers a superb oceanfront setting, outside seating and an international newsstand - ideal for that first coffee of the morning. With a plethora of breakfast options, patrons can tuck into Eggs Florentine, buttermilk pancakes, or try the Middle Eastern combo (a hummus, tabouli salad and grape leaf platter). Their burger and fries or smoked salmon bagel are also great. The ultimate lure of News Café is that they're open 24 hours a day, and breakfast can be ordered around the clock.
Address:
800 Ocean Drive
Joe's Stone Crab
A Miami institution, Joe's Stone Crabs has burgeoned since its humble beginnings as a sidewalk vendor in 1913. Renowned for its stone crab claws, a plethora of scrumptious side orders include Joe's famous hash browns and cole slaw, creamed spinach, grilled tomatoes and fresh salads. Don't forget to try Joe's famous mustard sauce and the appetizing seafood bisque (there is also a selection of other seafood, steaks, ribs and chicken to choose from). Note: Joe's is only open during Stone Crab season, from October to May. Open for lunch from Tuesday to Saturday, and dinner all week.
Address:
11 Washington Avenue
Red Fish Grill
Located at the edge of the saltwater lagoon lies the Red Fish Grill, surrounded by the magnificent setting of the tropical Matheson Hammock Park. The ambience of the restaurant, reminiscent of Old Miami, makes it an ideal place for a romantic dinner. Red Fish Grill offers delicious seafood dishes that won't disappoint - try the Chilean sea bass, or the mahi-mahi with spinach, sweet potato and blue cheese. Open daily for dinner.
Address:
9610 Old Cutler Rd