Airport Details
Airport Full Name
Detroit Airport
.
IATA Code
DTW
.
Location:
The airport is located 20 miles (32km) southwest of downtown Detroit.
.
Airport Facilities

The main concentration of restaurants, bars, cafes, and fast food outlets are in the McNamara Terminal, although the other two terminals also have bars and eateries. There are numerous shops located throughout the airport, including duty-free. ATMs, wireless Internet and bureaux de change are available in all terminals. The two on-site hotels offer conference and business facilities. Disabled facilities are good; those with special needs should inform their airline in advance.
.
Transfers

SMART public buses connect to central Detroit from the lower level near the Ground Transportation offices at the North Terminal, the fare for a regular route trip is $1.50. Taxis and sedan services are also available, a 4-passenger sedan to downtown Detroit costs $52. There are car hire companies represented at the airport. It takes approximately 20-30 minutes to the city centre by car/taxi and about 45 minutes by bus.
.
Contact

Tel: +1 734 147 7678.
Climate Details (C)
| | | | | | | | | | | | | |
| --- | --- | --- | --- | --- | --- | --- | --- | --- | --- | --- | --- | --- |
| | J | F | M | A | M | J | J | A | S | O | N | D |
| Min | -7 | -6 | -2 | 4 | 10 | 15 | 18 | 17 | 13 | 7 | 2 | -4 |
| Max | -0.7 | 0.6 | 7 | 14 | 21 | 26 | 28 | 27 | 23 | 16 | 9 | 2 |
Travel Guides: Detroit
General Information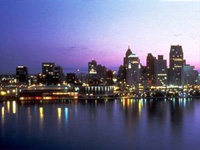 The sprawling industrial city of Detroit, the oldest city in America's mid-west, began life as a trading post when French explorer Antoine de la Mothe Cadillac landed on the banks of the Detroit River in 1701 and established a fort. He was later removed because of bad conduct, but unlike its outpost commander, the settlement of Detroit was flourishing. In 1796 Detroit became American, and by the early 19th century had already earned a reputation as a centre for the manufacturing industry, particularly kitchen ranges. As most people now know, however, Detroit did not go on to become the stove-making capital of the world. Today it is renowned as being the automotive centre of the globe, birthplace of the motorcar and home to some of the nation's top brands. Originally automobile empires were established by Detroit families like Ford, Olds, Chevrolet and Dodge, which have become household names, thanks to the invention and perfection of the motor vehicle production assembly line, which all began in Detroit.
It is not only hard work and industrial enterprise that drives Detroit, however. The city in southeast Michigan is also famous for the Motown record label, founded by former autoworker Berry Gordy Jr, which has introduced the world to stars such as Stevie Wonder, Michael Jackson, the Temptations and Diana Ross, to name but a few.
Modern 'Motown' Detroit is a little decayed and shabby, but efforts are being made to increase the city's appeal as a tourist destination, and there are several attractions worth seeing. In the downtown area new hotels and restaurants are appearing to complement a new sports stadium, and there is a focus on the arts, particularly in the city's historic theatre district. The Rennaissance Center, a group of seven interconnected skyscrapers, provides the best views of downtown Detroit.
Getting Around
There is not much in the way of public transport in Detroit, and the Motor City is still geared resolutely towards the car. Driving is not too challenging and parking is relatively easy to find, but rush hours should be avoided. To hire a car drivers must be 21 years old and have a valid driver's license; sometimes an International Driving Permit is also required. However, should one choose to rely on public transport, the People Mover is an elevated monorail that provides a quick and easy way to get around most of the downtown area, while DOT buses operate a meagre inner-city service and the SMART buses serve the suburbs, but service is sparse on weekends. Taxis are a convenient form of transport and can easily be found or ordered by phone.
Activities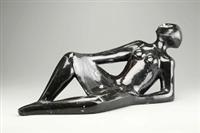 Detroit Institute of Arts, Detroit
America's fifth-largest fine arts museum boasts more than 100 galleries displaying a collection of 65,000 works, ranging from mummies to Matisse, and Asian antiquities to American Impressionists. The Museum is situated in downtown Detroit. The highlights include the masterpieces of Rembrandt, Rubens, Bureghel the Elder, Botticelli, Van Gogh, Cézanne, Picasso and Caravaggio. From January till May the Film Theatre screens an impressive selection of international films and shorts.
Opening Times:
Wednesday and Thursday 10am-4pm; Saturday and Sunday 10am-5pm. On Fridays the museum stays open until 10pm and offers music recitals, free tours, artist demonstrations and workshops.
Admission:
$8 adults, $4 children 6-17. Concessions available.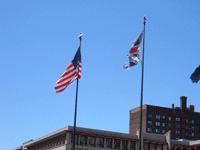 Detroit Historical Museum, Detroit
The Detroit Historical Museum in Downtown allows visitors the chance to tour the scope of the city's history, from Antoine de la Mothe Cadillac's landing on the banks of the Detroit River through the city's emergence as an industrial capital. In the museum it is possible to walk through the streets of Old Detroit and explore 19th-century shops. Visitors can also find out about Detroit's role in the 'underground railroad' that helped slaves escape from the South. The interactive Glancy Trains toy train exhibit delights young and old.
Opening Times:
Wednesday to Friday 9:30am-3pm, Saturday 10am-5pm, Sunday 12pm-5pm.
Admission:
$6 (adults), $4 (concessions); children under 4 years free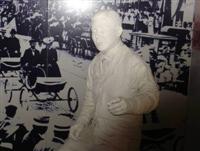 Automotive Hall of Fame, Detroit
Car buffs from the world over are drawn to Detroit's Automotive Hall of Fame, close to the Henry Ford Museum in Oakwood Boulevard, Dearborn, which is the public program and exhibition centre for the worldwide motor vehicle industry. The venue features entertaining and enlightening exhibits about the people who drive the industry. Visitors can indulge in interactive events like designing their own car and taking part in safety demonstrations.
Opening Times:
Wednesday to Sunday 9am-5pm (closed major holidays).
Admission:
$8 (adults), $4 (children 5-12). Concessions available.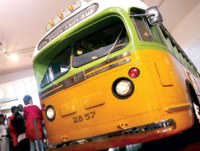 The Henry Ford Museum, Detroit
Henry Ford, son of a farmer, built his first car in Detroit in 1896. There was nothing too amazing about this feat, because cars had been around for some time. What was unique to Ford's invention was the moving assembly line, which enabled him to literally put the world on wheels. Henry Ford's legacy is found at every turn in his hometown, Detroit, which is why the city's most popular and prominent tourist attraction was founded by him in 1929. The Henry Ford is spread over more than 36 hectares (90 acres) in Dearborn just outside of metro-Detroit and encompasses five different venues. Together they bring the whole American experience to life, using exhibits, demonstrations, programmes and re-enactments to showcase American life and its people. Ford amassed most of the exhibit collection, including tens of thousands of ordinary objects, items associated with illustrious Americans, and numerous inventions documenting technological advances. Among the exhibits is the limousine in which John F. Kennedy was assassinated, Edgar Allan Poe's writing desk, and George Washington's camp bed. It is located in Dearborn, Michigan just west of the Southfield Freeway (M-39) and south of Michigan Avenue (US-12).
Opening Times:
Museum open daily 9:30am-5pm; closed Thanksgiving and Christmas. Different opening hours apply for other attractions.
Admission:
Museum: $17 adults, $12.50 children. Ford Rouge Factory Tour: $15 adults, $11 children. Imax Theatre: $13.75 adults, $9.75 children. Greenfield Village: $24 adults, $17.50 children.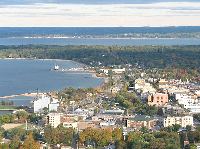 Traverse City, Detroit
Midwestern Michigan seems an unlikely place to put a popular beach resort, but Traverse City is just that. The town is located 25 miles (40km) from a sandy beach along Lake Michigan in the northwest of the state, and offers hiking, kiteboarding, fishing, sailing, and camping as fun outdoor activities. Traverse City is also the home of the National Cherry Festival, held each summer. The town is also conveniently located near Michigan's wine country, with more than 50 wineries in the area offering tastings.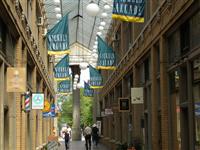 Ann Arbor, Detroit
The city of Ann Arbor in southeast Michigan, 45 miles (72km) west of Detroit just north of the Ohio border, is home to the University of Michigan, one of the country's top universities. The city and surroundings has a great deal to offer visitors in the form of historic and cultural attractions. Ann Arbor's downtown area is extremely vibrant with never a dull moment, from live music shows to a plethora of libraries, galleries and museums, restaurants offering everything from romantic dinners to café society, some of the country's best bookstores and often a street party. Among the many museums of interest is the Ann Arbor Hands-On Museum, housed in a 100-year-old firehouse, which features more than 250 interactive science and technology exhibits. There are numerous restored 19th-century houses and farms to visit for a taste of life in days of yore, and even an original old main street blacksmith shop still operating in the satellite town of Manchester. Museums in the area cover everything from geology to classic cars, early American manuscripts, dentistry and old fire-fighting equipment. On the University campus the Natural History Museum contains the state's largest collection of dinosaur fossils and a planetarium features a 360-degree domed screen offering weekend stargazing shows.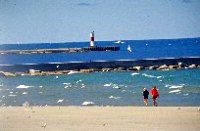 Ludington, Detroit
Michigan boasts some wonderful sandy beaches along its western coastline along Lake Michigan. Some of the best of these, with miles of sand and wild dunes, are near the ferry port town of Ludington. The Ludington State Park offers 14 miles (23km) of hiking and biking trails in beautiful virgin forests and dunes, miles of sandy beach and three campgrounds. There are several other popular beach resort towns along Michigan's west coast, within easy reach of Detroit, which are known as 'The Riviera of the Midwest'. Silver Lake resort boasts its world-renowned living sand-dunes and the world's smallest newspaper; Grand Haven has a magnificent boardwalk along its spectacular beaches lined with restaurants, marina facilities and shops; Holland, has a Dutch flavour inherited from its founder, a Dutch clergyman; St Joseph in the south has a famous lighthouse and a French fort.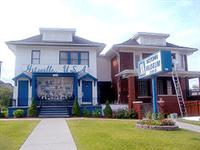 Motown Historical Museum, Detroit
Detroit's Motown sound originated in two simple buildings on West Grand Boulevard, Downtown, at Hitsville U.S.A. Visitors can see the original control room and recording studio where stars like the Jackson Five, Diana Ross and Stevie Wonder made hit records between 1959 and 1972. The Museum also contains some costumes worn by the stars and Motown founder Berry Gordy's apartment, still as it was in the 1960s.
Opening Times:
Tuesday to Saturday 10am-6pm. Open Mondays in July and August.
Admission:
$10 adults, $8 children under 12. Concessions available.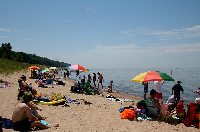 Saugatuck-Douglas, Detroit
The small resort towns of Saugatuck and Douglas are close enough together to be considered one holiday destination. Popular for weekend getaways from Detroit and Chicago, the towns are located along the shore of Lake Michigan, in the southwest of the state. The area is known for its eclectic and artistic feel, with dozens of art galleries, and plenty of good restaurants and bars. Saugatuck-Douglas offers a number of activities for visitors, including fishing, hiking, sailing, golf, bowling, horseback riding, kayaking, dune buggies and lake cruises. There are also some small sandy beaches that offer a place for swimming and sunbathing.
Events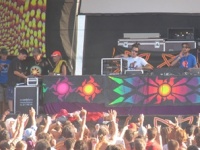 International River Days
This cross-border festival was started in 1959 when Detroit and its Canadian neighbour, the city of Windsor on the other side of the Detroit River, decided to join forces to celebrate Independence Day and Canada Day. Today most of the carnival events take place on the Windsor side of the river, but Detroit still offers several parties and organises the spectacular fireworks display, billed as the largest in north America, that is the centrepiece highlight of the entire festival. Another popular event is the cross-river tug of war between teams from each city.
Date:
22 - 24 June 2012
Venue:
Hart Plaza, Detroit and Dieppe Park, Windsor, Ontario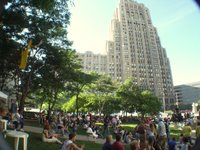 Comerica CityFest
The food, music and spirit of Detroit are celebrated in the downtown streets with a mixed bag of eats and entertainment. More than 35 of the city's restaurants serve up samples of their specialities to more than 350,000 visitors, who also enjoy a feast of events from skateboard challenges and movie shows to a petting zoo and arts and crafts displays. A main ingredient of the TasteFest is the music, with national and local talent performing on four stages.
Date:
4th of July weekend, annually
Venue:
New Center on West Grand Boulevard between Woodward Avenue and the Lodge Freeway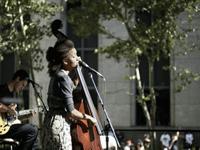 Detroit International Jazz Festival
Detroit's annual swinging festival has become the largest jazz event in North America, now an institution after being held for a quarter of a century. The event jazzes up downtown with more than 100 concerts, late-night jam sessions and plenty of buzz in the area's 20 or so bars and restaurants.
Date:
31 August to 3 September 2012
Venue:
Hart Plaza and Campus Martius Park