Airport Details
Airport Full Name
Bristol Airport
.
IATA Code
BRS
.
Location:
The airport is situated seven miles (11km) south west of Bristol.
.
Airport Facilities

Facilities at Bristol Airport include a bureau de change, ATM, bars, restaurants, shops, executive lounge and tourist information desk. Disabled facilities are good; those with special needs are advised to contact their airline in advance.
.
Transfers

Bristol International Flyer buses operate between 2.30am and 11.45pm and travel regularly to Bristol city centre and the Bristol Temple Meads railway station, taking 30 minutes and costing around £5. Taxis are available outside the terminal.
.
Contact

Tel: +44 (0)871 334 4444.
Climate Details (C)
| | | | | | | | | | | | | |
| --- | --- | --- | --- | --- | --- | --- | --- | --- | --- | --- | --- | --- |
| | J | F | M | A | M | J | J | A | S | O | N | D |
| Min | 3 | 2 | 4 | 6 | 9 | 12 | 13 | 15 | 10 | 6 | 6 | 3 |
| Max | 7 | 9 | 15 | 17 | 18 | 23 | 22 | 26 | 22 | 14 | 12 | 9 |
Travel Guides: Bristol
General Information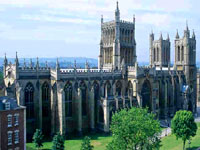 The River Avon winds picturesquely through the bustling city centre of Bristol in the southwest of England, and has played a key role in the development of the city as a major English commercial port. Surrounded by a charming hilly landscape and the spectacular, ice-carved Avon Gorge, Bristol is a scenic mix of history, commerce and culture.
The city contains a mish-mash of architecture spanning over 400 years, much of which has been rebuilt, destroyed, relocated or vandalised over time. The city fathers seem to have had a constant need to modernise, and today, few of the city's earliest treasures remain, particularly after Bristol was severely blitzed during World War II. Although there is little or no remnant of Bristol's 11th-century origins, the city is not devoid of character by any means, and there has been an attempt to restore the remaining jewels, evident in the beautiful Queen and Portland Squares. There are plenty of Georgian and Victorian churches, buildings and monuments to be seen and the city's strong maritime history can still be explored.
Bristol's busy city centre contains a number of excellent museums, galleries, parks and churches, including the Bristol Cathedral. The city receives over nine million visitors a year and as one of the current top ten UK holiday destinations, its tourism industry is rapidly expanding. Its thriving music scene is still dominated by trip-hop (also known as the Bristol Sound), which emerged in the city in the 1980s and 1990s; and with two universities, Bristol has a thriving nightlife, plenty of restaurants and shops galore.
Bristol's green lung has long been the Downs. Over 400 acres of grassland stretch from Avon Gorge to the Victorian-built suburbs of the city, and locals and visitors alike flock to enjoy the peace and quiet they offer. Other great sights in the city include the Bristol Zoo and Gardens, and the Bristol Clifton Observatory and caves, near the eye-catching Bristol Clifton Suspension Bridge.
The diversity and muddled history of the city make it well worth the visit, and it is also a convenient distance from the nearby city of Bath, as well as the fascinating site of Stonehenge.
Getting Around
Bristol is an easy city to negotiate on foot, with plenty of attractions close to one another. There are, however, taxis, trains and an extensive bus network available. While the bus service has been criticized in the past, plans for a five-year project to transform it, reducing congestion and improving safety, are in place. There are plenty of car rental agencies available, though the city centre can get congested. Bristol is a popular place for cyclists and despite plenty of hills, the city has an excellent urban bike route. The Bristol Ferry Boat is a fun and leisurely way to explore the city; it offers leisure and commuter services on the harbour.
Activities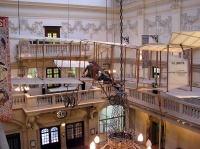 Bristol City Museum and Art Gallery, Bristol
The Bristol City Museum and Art Gallery is an impressive collection of exhibits, objects and artwork, housed in a beautiful Edwardian Baroque building. As well as the permanent exhibits of regional, national and international artefacts, the museum hosts a range of temporary exhibitions and has a variety of different periods of artworks on display in its galleries. From natural history to the World Wildlife Gallery, decorative arts collections and archaeological displays, the Bristol City Museum and Gallery has something for everyone. The museum and gallery also plays host to various special events, workshops and children's activities throughout the year. Budget at least two or three hours to take it all in.
Opening Times:
Open Monday to Friday from 10am to 5pm, and on weekends and bank holidays from 10am to 6pm.
Admission:
Free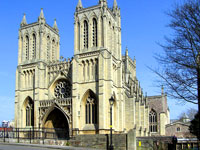 Bristol Cathedral, Bristol
In roughly 1140, the Abbey of St Augustine was founded by Robert Fitzhardinge. Over the years, the Abbey was altered, eventually becoming the model of the 'Hall Church' style in England. When the Abbey was finally dissolved in 1539, the nave was demolished and rebuilt, and became what is now the landmark Bristol Cathedral. The original Abbey Gatehouse and the Chapter House (which dates back to 1165) remain, and visitors can enjoy the beauty and peace of this ancient holy site and its surrounds. The Cathedral also hosts free music recitals at certain times of year. Public guided tours of the Cathedral are available most Saturdays, from 11.30am.
Getting There:
Accessible by car, train or ferry
Opening Times:
Open daily, from 8am until after Evensong.
Admission:
Free, but donations are appreciated if you take a guided tour of the Cathedral
Events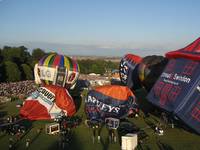 Bristol International Balloon Fiesta
Every year the Ashton Court Estate and the skies of Bristol are transformed into a colourful riot of hot air balloons. Mass balloon launches of over a 100 balloons at a time take place in amongst a host of family-orientated activities. Funfairs, music, stunt shows, camel racing, international food stalls and more form part of this free, four-day fiesta. One of the highlights of the fiesta is the Special Shapes Rodeo, where anything from a giant bag-pipe playing highlander to a floating orange slice can be seen taking to the skies. Balloon launches are usually at 6am and 6pm each day, but it is worth noting that the launches are subject to the weather and times can change. For more information, call (0)117 953 5884 or consult the Fiesta website.
Date:
9 - 12 August 2012
Venue:
Ashton Court
Venue:
Fiesta gates open at 12pm