Travel Guides: Northern Territory
General Information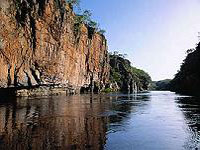 A slice through the centre of Australia, the Northern Territory contains the 'Red Centre' of the country with its rugged bush, ancient Aboriginal cultures and amazing plant and wildlife. The abundant wide open space is the 'Outback' of Australia. The Northern Territory is twice the size of California, but is inhabited by fewer than 200,000 people. It draws tourists, however, because it forms the backdrop for adventure on a grand scale - hot-air ballooning, bushwalking, four-wheel drive safaris, camel rides, all of it accessible from good roads and from bases with quality accommodation.
From Darwin, the capital of Northern Australia in the far north, down to the mysterious Uluru (Ayers Rock) and the pioneering town of Alice Springs in the south, the Northern Territory is a land of contrasts. Here you will meet some of Australia's most colourful characters and experience deserts, islands and beaches, wetlands teeming with birds and crocodiles, shining rivers and ancient Aboriginal sites.
Travellers should be aware that especially during the summer months (usually between October and May) the shallow coastal waters of northern Australia become infested with marine stingers, commonly known as box jellyfish, whose sting is highly dangerous and can be deadly. Many beaches offer protected swimming with stinger nets in place, or enclosed tidal pools, and surf lifesavers may warn people off infested beaches. Swimmers may also wear a lycra 'stinger suit' as protection.
Activities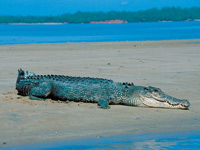 Crocodylus Park and Zoo, Darwin
Housing over three decades of research on Australian crocodiles and a comprehensive crocodile museum, the Crocodylus Park and Zoo is designed to educate people about this lesser known predator. While the focus at the park is on crocodiles, there are plenty of other animals to keep visitors interested. At this, the largest attraction in Darwin, visitors can learn about these reptiles as well as view a collection of other animals such as big cats, monkeys, birds, snakes and turtles, to name a few. Regular daily tours, including crocodile feeding, will leave visitors captivated and enthralled by these prehistoric-like creatures. There are well-trained giudes who are willing to answer any questions about the crocodiles, both the speicies in general and the particular crocodiles housed at the park. Visitors are allowed to get as close as is safe to get the best pictures possible.
Getting There:
From Darwin City, catch Bus #5 or #9
Opening Times:
Open daily from 9am to 5pm. Closed on Christmas Day.
Admission:
A$35 (adults), A$17.50 (children). Concessions are available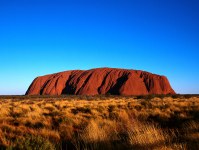 Uluru - Kata Tjuta National Park, Alice Springs
Formerly known as Ayres Rock, Uluru rises from the surrounding plains, protected within the Uluru - Kata Tjuta National Park, and belongs to the Anangu Aboriginal people for whom it holds a special spiritual significance. In an isolated spot 280 miles (450km) from Alice Springs, the power of the rock draws hundreds of visitors taken on tours by Aboriginal guides who explain the monolith's importance in Aboriginal culture. A visit to this monolithic rock, the world's greatest, is an awesome experience. It is composed of a type of sandstone that has been exposed through folding, faulting, the erosion of rock and infill. At the base are caves, inlets and overhangs formed by chemical degradation and erosion. Some opt for the 1,142ft (348m) climb to the top, which takes about 45 minutes and is not for the faint-hearted; however it should be noted that for spiritual reasons the Anangu people request that visitors not climb the rock. Visitors should try to view Uluru at different times of the day - part of the magic of the rock is its constant colour changes in different lights, particularly at sunrise and sunset. Visitors can take a camel tour of the outback at Uluru, or enjoy an unforgettable flight in a light aircraft or helicopter for a bird's eye view of the monolith. About 19 miles (30km) from Uluru is another fascinating geological formation on the desert landscape. Known as Kata Tjuta (formerly known as the Olgas), these comprise 36 domes of red-brown earth, the tallest of which, Mount Olga, is 656ft (200m) taller than Uluru. There is a range of accommodation at Uluru, from luxury resorts to campsites. There is also an Aboriginal cultural centre and an arts and craft centre, along with restaurants, swimming pools, galleries, supermarket, medical centre and post office.
Opening Times:
Opening vary depending on the season. Generally, the park is open between 5am and 6.30am, and closes between 7.30pm and 9pm
Admission:
A$25 (adults), valid for three consecutive days
Tennant Creek,
Now a holiday resort, the old mining town of Tennant Creek, about 300 miles (500km) north of Alice Springs, was allegedly born when a beer wagon en route to an Overland Telegraph Station broke down in 1934 and the driver, Joe Kilgariff, decided to set up a store and pub at the breakdown site. Such legends abound in the Tennant Creek area, which was the site of Australia's last gold rush. At the Battery Hill Mining Centre visitors on holiday can take a mine tour and hear the miners' stories, before enjoying a nature walk and a picnic. The small holiday town is situated at the junction of the Stuart Highway, which runs between Darwin and Alice Springs, and the Barclay Highway that travels east to Mt Isa. Tennant Creek is an excellent point from which to make an excursion to the fascinating signature landforms of the area - the granite boulders known as the Devil's Marbles. The thousands of huge, red boulders, some nestling together and others poised on top of each other, are a compelling spectacle in this shallow valley 60 miles (100km) south of Tennant Creek. The local Aboriginal people regard the Devil's Marbles site as a sacred place, believing that the boulders are the eggs of the Rainbow Serpent.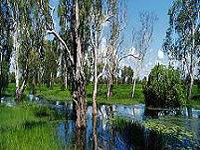 Kakadu National Park, Darwin
This stunning park, covering almost 12,500 square miles (32,375 sq km) was added to the world's list of World Heritage areas in 1984 and is regarded as one of the natural marvels of Australia. The land itself is believed to be more than two billion years old, and is a jigsaw of wetlands, gorges, waterfalls, floodplains, rainforest pockets and escarpments. It offers the visitor a breathtaking variety of superb landscapes teeming with wildlife, and features some of Australia's most magnificent examples of Aboriginal rock art. About 5,000 Aboriginal sites have been identified in the park area. The park can be visited on a day-trip from Darwin and contains more than 1,600 species of plants and 500 different kinds of birds and animals.
Outback Ballooning, Alice Springs
Surely, the most iconic image of Australia is the blood-red dust of its sere and sparse Outback - and what better way to experience it than from a hot air balloon, in the dawn hours, with the sky full of a million colours? Alice Springs' Outback Ballooning company has been offering this once-in-a-lifetime experience to eager visitors since 1986, and has built a solid reputation for itself as a high-quality, and dependable tour operator (with an impeccable safety record). You'll be accompanied on your hot air balloon ride - which also includes refreshments and a light breakfast - by an informative guide, to ensure you get the full effect of the unique landscape spread out beneath you. Visitors of all ages, sizes, shapes and fitness levels are welcome, and are all bound to leave with a memory they'll cherish for the rest of their lives. Don't forget to pack your camera.
Opening Times:
Operational every day, weather permitting. Advance booking essential
Admission:
Prices and packages vary, but for a 60-minute balloon ride, including refreshments and a light breakfast, it's A$385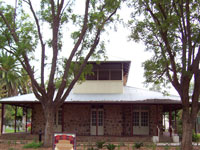 Adelaide House Museum, Alice Springs
Located in Todd Mall next to the John Flynn Memorial Church, the impressive and historical Adelaide House was opened as a hospital-hostel in 1926. Sister Jean Findlayson was the brainchild behind the centre, setting it up so that patients did not have to travel to Oodnadatta by wagon. Adelaide House was the only medical centre in Central Australia until the opening of the hospital in 1939 and, during its peak, catered for a population of 950 people. In 1983 it was restored as a museum of local history and a radio room at the back of the house is where the first test radio transmission was received from Hermannsburg by Maurie Fuss in November, 1926, when Flynn and Traeger were experimenting with radio for the Flying Doctor Service. The museum has some fine displays including the story of the Australian Inland Mission, early journals, maps and a vast collection of historic photographs.
Opening Times:
Open Monday to Friday from 10am to 4pm, and on Saturday from 10am to 12pm.
Admission:
A$3.50. Concessions available.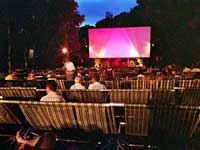 Deckchair Cinema, Darwin
Operated by the Darwin Film Society and completely independent, the Deckchair Cinema is unique in more than one way. Screening films that would otherwise be unavailable to local audiences, the Deckchair Cinema is set outdoors on the edge of Darwin Harbour and is the perfect location for a sunset picnic followed by a movie. The cinema runs seven nights a week during the dry season (April to November) and screens a range of movies from family friendlies to foreign films. With 250 deckchairs and about 100 straight-backed seats, the cloudless skies above the Deckchair Cinema and harbour lights make a breathtaking backdrop for the screen. An evening at the Deckchair Cinema makes for a unique way to experience Darwin and its beautiful outdoors.
Opening Times:
Open nightly, from April 27 to November 20
Admission:
A$15 (adults), A$7 (children). Concessions are available