Travel Guides: Curacao
General Information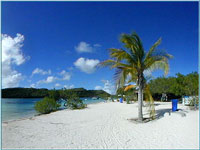 Part of the Netherlands Antilles group along with St Maarten, Curaçao is the largest island in the archipelago, an arid and largely flat island stretching about 40 miles (64km) in length. The southern coastline is scattered with spectacular bays, beaches and secluded coves and is more inhabited than the rough northern shore where the weather-beaten terrain takes the brunt of the wind, and cliffs are pounded by the rough surf. The best beaches are scattered along the southwest coast where the calm, crystal clear water also makes it a tropical paradise for divers, snorkellers and swimmers; towards the east are the largest bays, where the main port and historic capital city Willemstad is situated.
Curaçao is an ideal holiday destination for underwater lovers, as the excellent visibility, warm water, active reef conservation and variety of dive and snorkelling sites ranks the island among the most popular dive locations in the Caribbean. On land there are also several interesting sites to visit, including the 'living' Hato Caves where centuries-old stalagmites and stalactites are still being formed; the protected wildlife preserve of Christoffel Park encompassing Mount Christoffel, the highest point on the island, with fantastic views over the island from among the park's exotic flowers, bent divi divi trees and blue iguanas; and the dramatic caverns carved out of the limestone cliffs by the crashing waves within Shete Boka National Park.
The capital city and seat of government for the Netherlands Antilles, Willemstad has been a major international trading centre for centuries, its society a mixture of different nationalities, races and cultures and its shops filled with goods from around the world. Old Willemstad dates from the 18th and 19th centuries and is one of the most remarkable historic areas in the Caribbean with charming alleys and superb Dutch colonial architecture housing restaurants, museums, shops and hotels. Many of the beautiful Dutch buildings have been adapted to life in a hot and breezy climate and sport Caribbean-style shutters, porches and verandas, lending further charm to the cheerfully painted historic structures.
Whether the days are spent in sun-soaked relaxation or by taking advantage of the endless activities on offer, on land or in the water, when the sun begins to set the trend is to slip into one of the bars, where happy hour is just the beginning of the night to come.
Climate
Curaçao experiences a warm and sunny climate throughout the year with average temperatures of 81°F (27°C), which are tempered by the constant trade winds from the east. It is located in the tropics and although outside of the hurricane zone tropical storms can cause uncharacteristically bad weather at any time of year. The rainy season is from October to February, but what little rain it receives usually falls at night.
Language
Dutch is the official language, but English and Spanish are widely spoken. The majority of islanders speak Papiamentu, a Creole language.
Time
Local time is GMT -4.
Money
The official currency is the Netherlands Antilles Guilder or Florin (ANG or NAFl), which is divided into 100 cents. US currency is accepted everywhere and the guilder is tied to the US dollar. Large notes in US dollars and guilders may be hard to cash or find change for. Most major credit cards are widely accepted and travellers cheques in US Dollars is advised to avoid additional charges. Banks and exchange bureaux will change foreign currency and ATMs are available.
Passport Visa
For travel within the Netherlands Antilles, all passengers of 14 years and older must hold proof of identity, if possible with photo. All visitors must demonstrate, on arrival, sufficient means of support while in Curaçao (US$500 a week, or equivalent in convertible currency). Travellers are required to have a return or onward ticket to a destination outside the Netherlands Antilles, and all the documentation required for that journey. Visa extensions are possible. As part of the Western Hemisphere Travel Initiative (WHTI), all travellers going between the United States and Canada, Mexico, Bermuda, and the Caribbean region, are required to present a passport or other valid travel document to enter or re-enter the United States. NOTE: It is highly recommended that your passport has at least six months validity remaining after your intended date of departure from your travel destination. Immigration officials often apply different rules to those stated by travel agents and official sources.
Entry Requirements & Embassy Consulates
Ireland
Irish nationals must have a passport valid for the duration of intended stay in Curaçao. No visa is required for a stay of up to three months.
United Kingdom
UK passport holders, irrespective of the endorsement regarding their national status, must hold a passport valid for the duration of intented stay in Curaçao. No visa is required for stays of up to three months.
Canada
Canadian nationals must have a passport valid for the duration of intended stay in Curaçao. Passport exemptions are made for holders of a birth certificate issued to nationals of Canada, when accompanied by a government-issued photo ID (such as a driver's licence); and holders of a Certificate of Proof of Canadian Citizenship or Certificate of Naturalisation. No visa is required for a stay of up to three months.
United States
United States citizens must hold a valid passport, or Western Hemisphere Travel Initiative (WHTI) compliant documents. No visa is required for stays of up to three months. Passports no more than five years expired are recognised.
United States Consulate General, Curacao: +599 9 461 3066.
New Zealand
New Zealand nationals must have a passport valid for the duration of intended stay in Curaçao. No visa is required for stays of up to three months.
South Africa
South African citizens must have a passport valid for the duration of intended stay in Curaçao, and must obtain a visa prior to entry.
Australia
Australian citizens must have a passport valid for the duration of intended stay in Curaçao. No visa is required for a stay of up to three months.
Health
Curaçao has no tropical diseases like malaria (although mosquitoes can be a problem), and no vaccinations are necessary. Sunburn is common. A high standard of cleanliness means that gastro-intestinal complaints are rare; tap water is distilled from the sea and is safe to drink. There are a number of medical centres on the island and a modern and well-equipped hospital, but medical insurance is recommended.
Safety
Most visits are trouble free, but petty crime is on the increase and although tourist areas are generally safe it is advisable to take sensible precautions like not taking valuables to the beach or wandering alone off the main roads at night. The islands are used to smuggle drugs from South America to Europe and North America and visitors should not leave bags unattended or agree to carry packages for anyone.
Electricity
Electrical current is 110 to 130 volts, 50 Hz. Two-pronged flat plugs are used.
Business
Curacao is an important centre of business in the Caribbean. Business tends to be conducted formally; punctuality is important and dress is smart and conservative. Greetings are usually accompanied by a handshake and business cards are exchanged. Although Dutch is the official language, Spanish and English are also widely spoken. Business hours are usually 7.30am to 12pm and 1.30pm to 5pm Monday to Friday.
Communications
The international dialling code for Curaçao is +599. The outgoing code is 00 followed by the relevant country code (e.g. 0027 for South Africa). There are no internal area codes. All local telephone numbers begin with 9 and are typically seven digits. Telephone cards for use at public phones can be purchased at post offices, roadside snack bars and petrol stations. The island is covered by a GSM 900/1800 network. Internet cafes are available.
Duty Free
Travellers to Curaçao may import 200 cigarettes or 100 cigarillos or 50 cigars or 250g of tobacco; two litres of alcohol; perfume; and gifts valued up to 100 florin without paying customs duty.